FINALLY...my build logs begins. I welcome those that followed my PHILADELPHIA builds as well as any new comers.
Welcome to my build log for the Continental Sloop PROVIDENCE. This ship is famous for being the first naval command of John Paul Jones and the distinction for ALMOST being the first ship in the Continental Navy.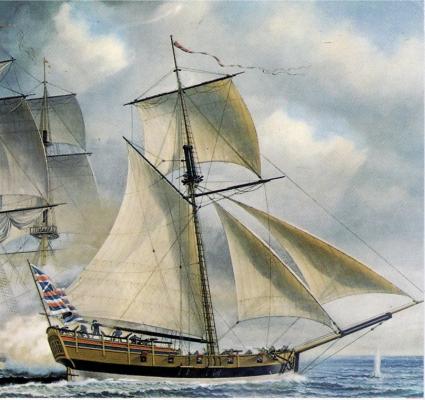 GENESIS OF THE PROJECT
The idea for this model began with, as most things of value, discussions about pirate ships. Our ship model club annually mans an information booth at the local County Fair. One of the questions that always arises is "Is that a Pirate Ship?" That leads to a discussion about what exactly IS a pirate ship? Does a Pirate go to "Pirate Ship Depot" and pick one out? "Nay" sez we. A buccaneer bateau is normally one they have captured and has attributes that would make it valuable to them; normally speed and agility. Ships that make good pirate ships also make good merchant ships, privateers and naval vessels.
I used the example of the classic Bermuda/Jamaica/Virginia sloop. Ships with exactly the same lines serving different purposes; Blackbeard's ADVENTURE, Armed Virginia Sloop merchant and John Paul Jones' PROVIDENCE.
Sometime afterwards, I was doing some research and found this was not EXACTLY true. While many sloops have almost exactly the same lines and the Model Expo AVS, PROVIDENCE was not one of them. Close, but not exact. Using paintings and plans from the replica PROVIDENCE, I saw that for one, the PROV was slightly beamier than the typical AVS. Also, whereas the aft section of AVS is covered, the PROVIDENCE has an actual poopdeck. My interest in the Continental Navy lead me to get more info and eventually build this ship.