The Book is out!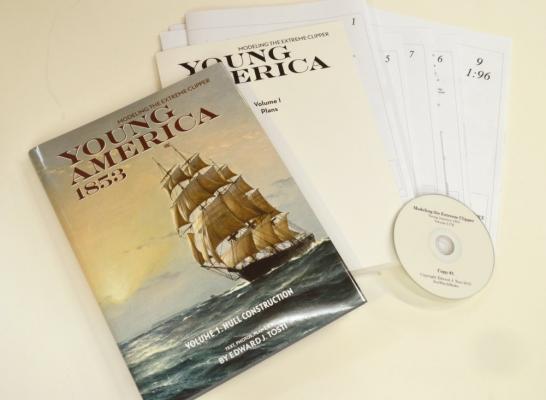 Sea Watch Books and I are very proud to announce the publication of Modeling the extreme Clipper Young America 1853, Volume I. I think you will find that the book is unique in its description of a fully-framed extreme American clipper - as well as a smaller plank-on-bulkhead version. As with the Naiad books, the focus of this work is on modeling processes - covered in detail with many photos and drawings. Eight full sized drawings are included for the two versions as well as a CD containing patterns, detail sheets and other data. A second volume covering fitting out, masting and rigging is planned.
My contribution to the book has included almost three years of research, drafting,modelbuilding, taking a few thousand photos and, of course, writing. I will let Bob Friedman comment on the effort required by Sea Watch and its various subcontrators.
However, apart from this initial announcement, the purpose of this topic is to collect comments, questions, and opinions on the book. Bob Friedman and I will pay attention to these as the book rolls out and address questions or issues that may arise. I will use this topic to post any addenda to the work that may become necessary or even just useful.
There are plenty of people to thank for help with an effort like this and I hope I have adequately expressed appreciation in the beginning of the book. The late Bill Crothers (1912-2015) tops my list and therefore deserves additional mention here. His exhaustive work on the structures of the American clipper ship were a primary resource for me and neither the model nor the book would exist but for his many years of effort and his excellent books. It was my honor and pleasure to meet with Bill with the framed version of the model in its earlier stages and to discuss various topics by phone on a number of occasions. I regret that he is not here to see the either the current model or the book.
So, comments and questions are most welcome.
Ed
The book can be found at:
http://www.seawatchb...comingBooks.htm
Edited by EdT, 04 September 2015 - 07:15 PM.