Location: St. Petersburg, Russia
About the original ship: https://en.wikipedia..._Poltava_(1712)
Official website: http://poltava1712.ru/
English version: http://poltava1712.ru/node/73
Youtube channel: https://www.youtube....2J4Yb9_Q/videos
Freshest news: http://vk.com/poltavaship
Live video feed from the main construction area: https://www.ivideon....393216/?lang=ru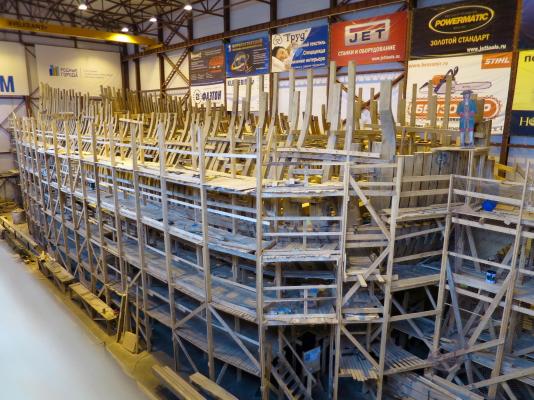 Unfortunately, there is zero information about the project in english. No english videos, news, etc.
But you can open the links mentioned above and just scroll for photos. Some videos are also really informative even without words.
If you visit St.Petersburg - you can easily get in - there are guided tours every day and tickets are very cheap.
Since I grew up in St.Petersburg, I will try to share the comments and freshest news about the project.
I have no relation to the project, just another curious visitor. But will try to share as much info as possible.
All that info is totally unofficial, and I keep no responsibility for it

All the photos in that thread are my own, but you can share them without any questions.
The plan is to launch the hull in mid 2016, and fit it (masts, sails, etc) in mid 2017.
It would serve as a museum, and so far no plans for long-haul sailing trips.
The replica is fully authentic, it will have no motor power. The only changes are: electrical system, automatic fire extinguishing system, using laminated oak for large timbers, and using Larch planks instead of oak, since they are more durable.
The ship construction fully follows typical British design of that period. According to the guides, there is zero difference. Constructors of the replica are using the same books for the reference.
If you have some additional info / photos / etc about this project - please post it here!
Edited by Mike Y, 28 December 2015 - 07:41 PM.