For my third build I've decided to resurrect the kit I started about 3 years ago, but gave up on because I found the plan sheets so cluttered and confusing that frustration took the fun out of the build. So after completing the basic hull structure on the inverted skeleton I packed the entire boat up in the box and went on to do Chuck's 18th Longboat and the AL Marie Jeanne instead. Now that I have several excellent Willie Bennett build logs to use as references, I've decided to give it another try.
I've wanted to build a Skipjack model after taking my granddaughter to the Chesapeake Maritime Musuem on St Michaels MD several years back and seeing several examples of these fine Chesapeake Bay work boats.
First the box with contents and ship's plans (if you enlarge the photos - last 3 photos below - you'll see what I mean by cluttered).
This is where I left the model when I decided to suspend the build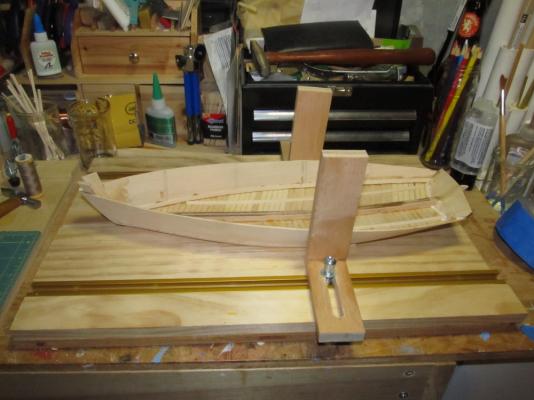 This is the status so far. Since the below decks structure will be completely covered I chose to not spend a lot of time detailing it and instead installed just enough to strengthen the model. This kit has a tendency to paint one into a corner if not careful. Installing the centerboard was a bit tricky and drilling the holes for the pivot was even more tricky given the side to side clearance and the length of the drill bit. I had to hold the bit in my fingers and rotate it slowing without the aid of a chuck. And, yes, a few of the deck planks are skewed and not completely perpendicular. I cut the notches in the clamp plank off the model after bending to shape using Chuck's hairdryer heat method and letting the planks sit clamped for about 36 hours. In some instances I am using butt joints and in others I'm notching the ends to fit into the pre-cut notches in the clamp plank. ("Clamp" is the term used in the plans)
So pull up a barrel, bench, chair, box or whatever and enjoy some popcorn from Sjors popcorn machine (Thanks Sjors

) and join the build.