Actually, I wanted to continue with my SMS WESPE model, but run into some technical difficulties and then this project came my way ...
The complex manual machining of very small parts on a milling machine requires smooth and precise movements of the slides as well as small masses to be moved. The slides of a watchmakers lathe fulfill these requirements. In addition, work-pieces and tools should be visible very well during machining.
Milling machines such as the Aciere F1 (or the older F12) or Sixis 101 are ideal for working on small parts, but are still far too large for my workshop (and have a too big price tag ...). Interesting from a design point of view would be also jig-borer and milling-machines by SIP (Société Genevoise d'Instruments de Physique), but they are very rare and difficult to come by. All these machines are massive and heavily constructed in order minimise vibrations by their inertia during the machining of precision parts for watches and instruments – too massive for my small workshop.
Aciera F1 milling machine (Source: http://www.lathes.co.uk/aciera/)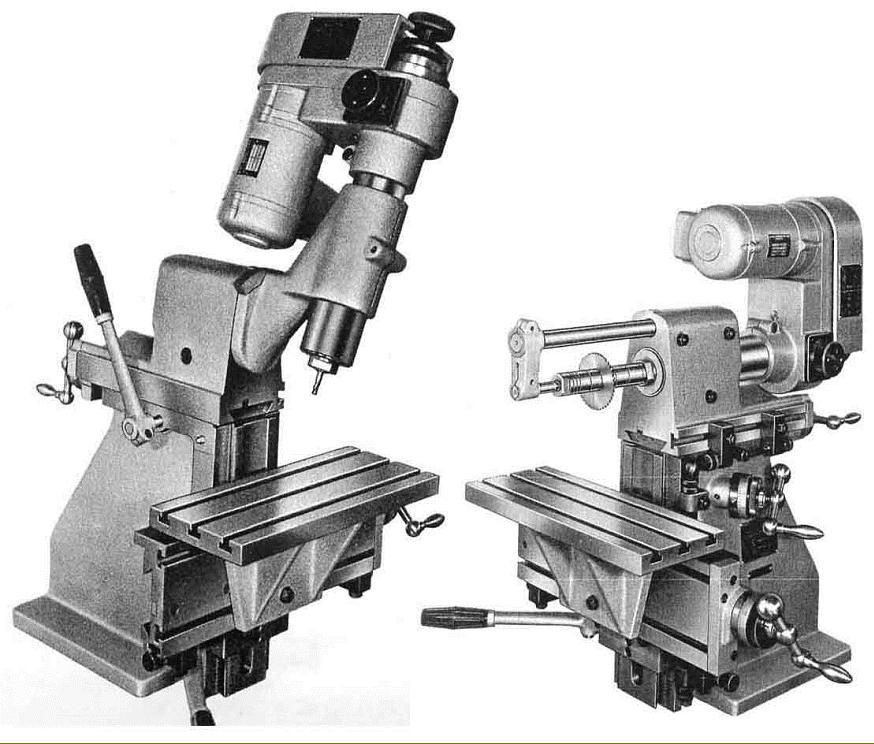 Sixis 101 milling machine (Source: http://www.lathes.co.uk/sixis/)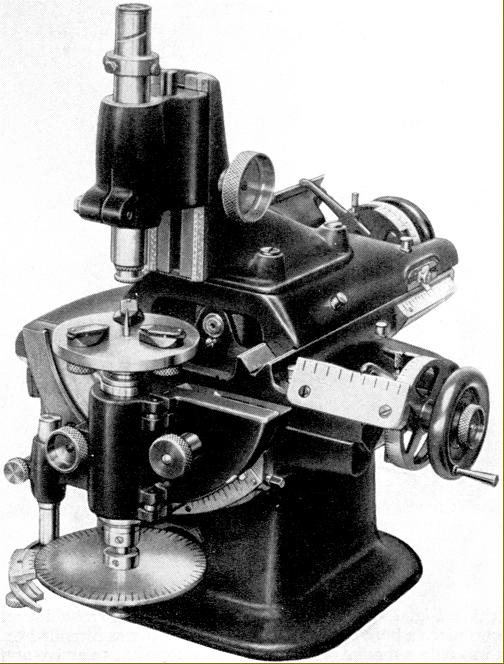 SIP jig-borer and milling machine (Quelle: http://www.lathes.co.uk/sip/)
A special feature of these machines is that the x-slide is not arranged horizontally under the milling spindle, but vertically in front of the main column. This permits the easy installation of a fourth and fifth machining axis. However, this arrangement means that the movement in the y-axis is not effected by the cross-slide, but by the milling head. This in turn means that milling head and motor should ideally form a unit. A belt-drive is more difficult to arrange, because the angle between the pulleys changes, when the milling head moves along. The SIP jig-borer for these reason originally was driven through a flexible shaft.
A watchmakers lathe is a good starting point owing to the precision of the slides and spindles, but it lacks the z-axis. In more recent years kits became available to convert Chinese-made watchmakers lathes into small vertical milling machines, but the milling table on them is arranged in a conventional way.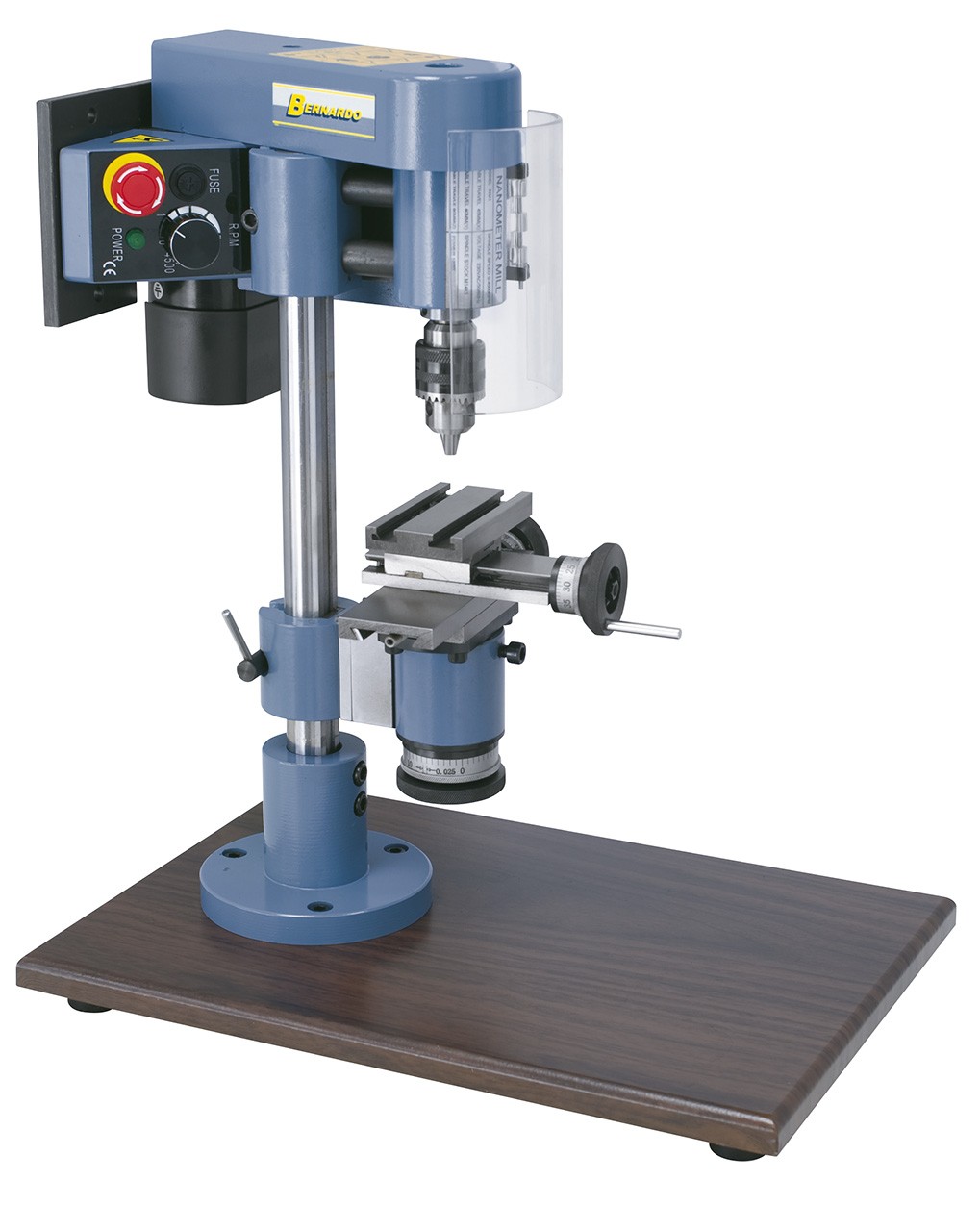 Conversion of a modern Chinese watchmakers lathe into a vertical milling machine
In my stock of watchmakers lathe bits and pieces I have collected over the years parts for several D-bed lathes of variable state of conservation. Some 'scrap' was also bought on purpose. From this parts I now want to construct a micro-milling machine with as little work as possible.
As design specifications I decided that the mill should be able to machine in a space of u 20 mm x 20 mm x 20 mm. This requires movements along the x-, y-, and z-axes of around 40 mm. There should be a fourth axis with a 360° rotation, that should be able to rotated under load. This axis should also be able to be moved from the vertical into the horizontal (5th axis). All those movements should be realised with parts from watchmakers lathes, so that no dove-tail slides need to be machined from scratch.
The back-bone of the mill will be a special D-bed that I obtained recently. It was originally meant for the conversion of a lathe into a small precision pillar-drill. Its lower end is turned down to a diameter that fits into a lathe foot. The foot that I am going to use probably came from a British Pultra-lathe (http://www.lathes.co...ltra/page8.html).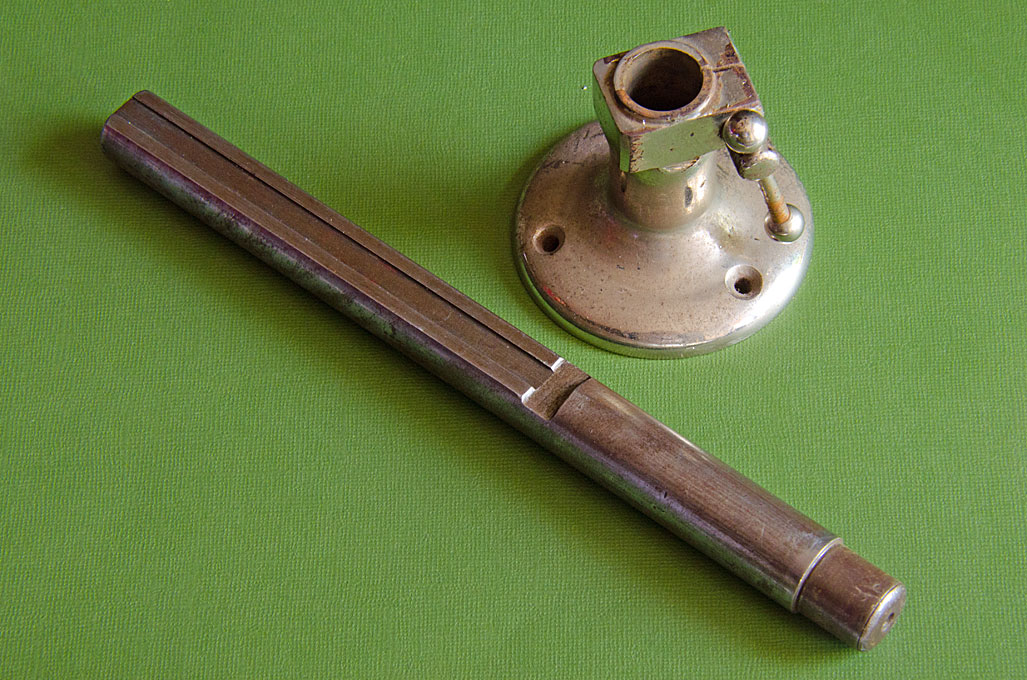 Column and foot
Another key part is an old and somewhat battered cross-slide from a Lorch, Schmidt & Co. D-bed lathe. This will be the x- and z-axis of the new milling machine.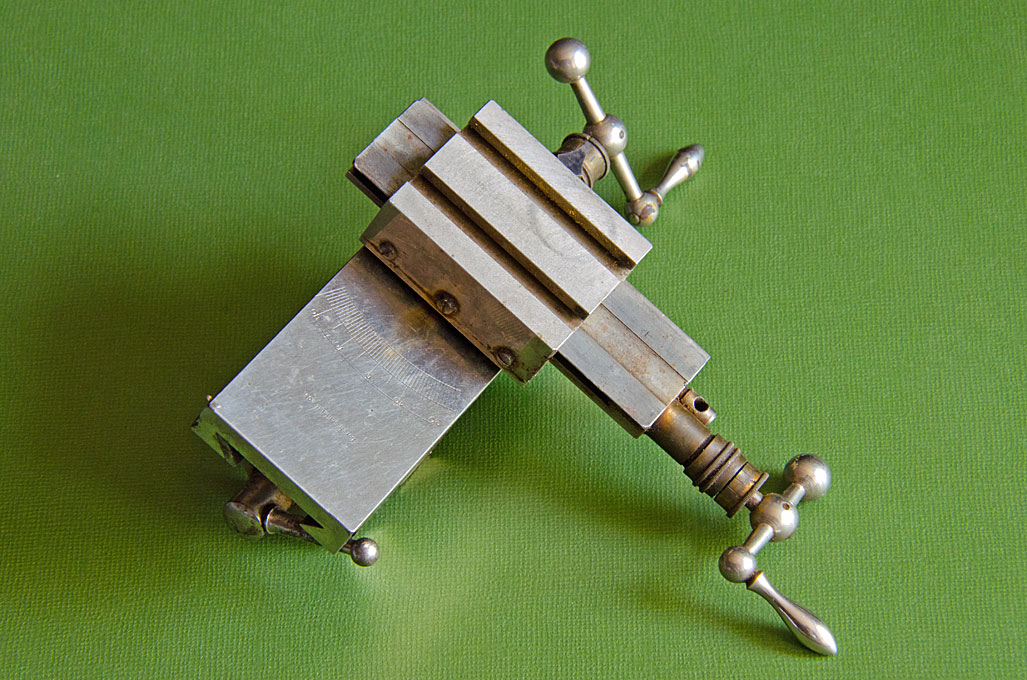 Cross-slide from a D-bed watchmakers lathe
The y-axis will be constructed with the help of a nearly scrap lower-slide from the cross-slide of a Lorch, Schmidt & Co. WW-lathe that I was able to buy cheaply. The spindle and micrometer-dial will have to be made from scratch. A 6 mm-grinding spindle of unknown make will serve as milling spindle. This limits somewhat the maximum diameter of cutters that can be used to ones with about a 4 mm-shaft, but the machine is meant for light work after all. On the other hand, many years ago I made an adapter for 6 mm end-mill for use in the lathe together with a vertical slide (before I owned a milling machine).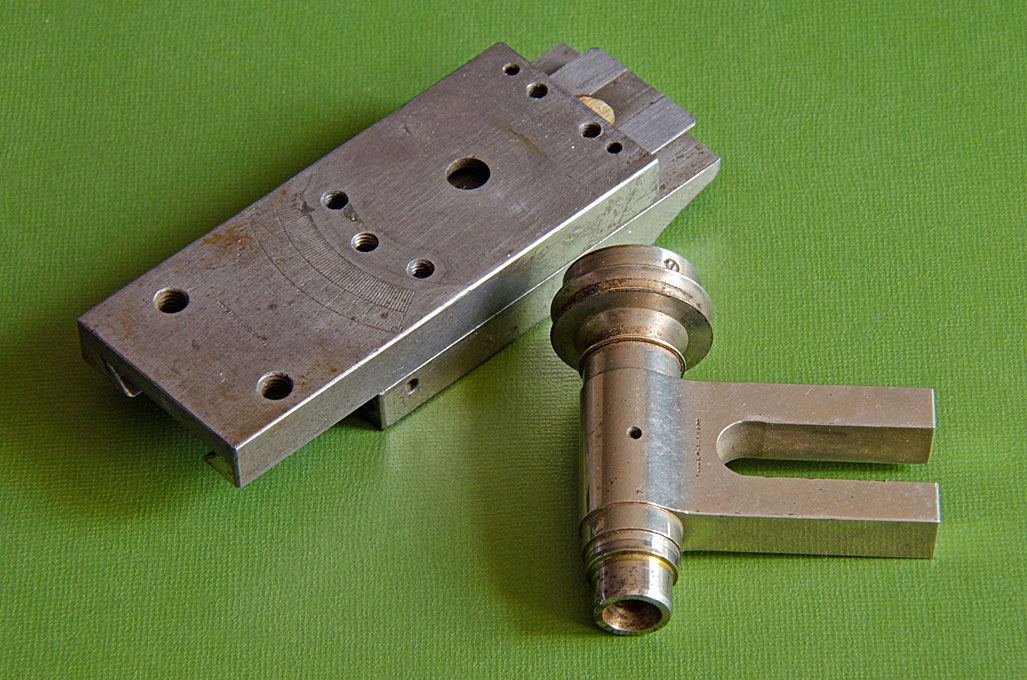 Lower slide from a WW-lathe cross-slide and grinding spindle
Future arrangement for the y-axis of the micro-mill
The fourth and fifth axis will be formed by the dividing head that I made some years ago from a 6 mm-watchmakers lathe grinding-spindle. For the moment it will be simply screwed onto the cross-slide as for use with a lathe. This gives considerable flexibility for the positioning at any angle between vertical and horizontal. The setting will be a bit time-consuming and has to be done with templates.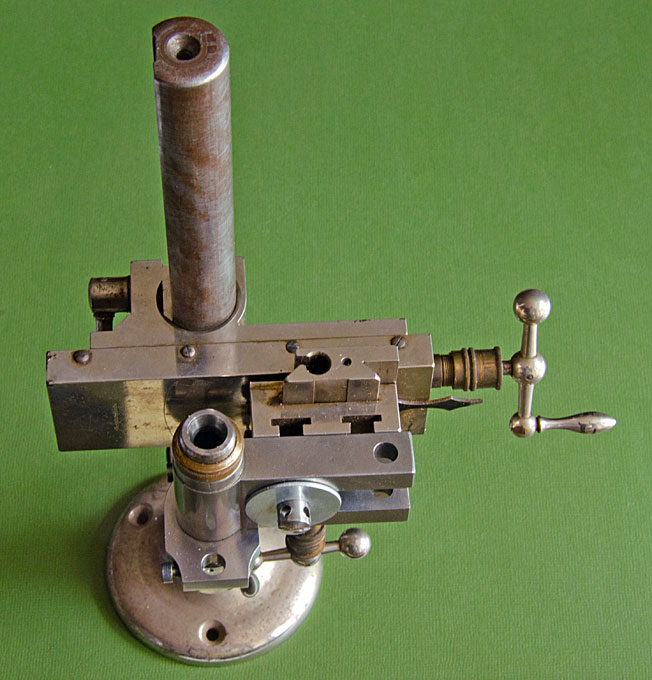 Column, cross-slide and dividing head assembled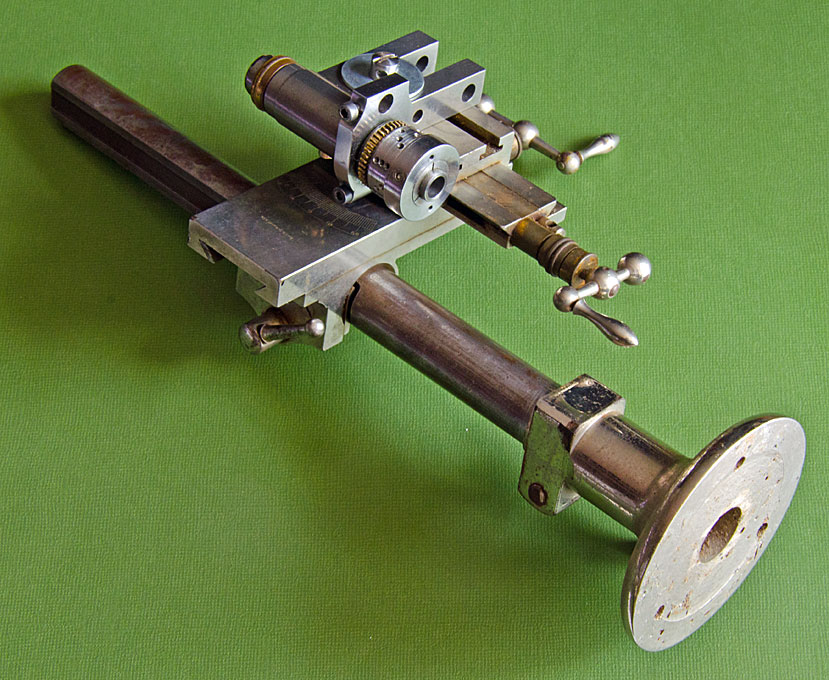 Column, cross-slide and dividing head assembled
So far the existing parts that need to be re-conditioned somewhat at a later point in time.
To be continued ...