As noted elsewhere I am re-starting (for the second time) my Amphion plans, explantions elsewhere.
This does have some advantages. First up I am much more competent with Turbo cad so it should be an easier process along with the fact that I seem to need to do things multiple times to understand what I am doing. Secondly the first plan set was documented on the original MSW (back in 2012 if I remember correctly). This meant that a lot of the early donkey work was lost which will hopefully not happen again.
I will leave both superceded research and build threads open until this is (re) done and then mark them as deprecated.
To start I am going to lay down some ground rules for the project to avoid the mess I got into last time. This will be incredibly boring to anyone who is not ocd so i recommend most stop reading here, at least until I get to something more interesting draft wise.
Drafting Style Guide
To better control the validity and understanding of what a file actually occurs the following guide will be followed.
Folder Structure
Past experience says that large amounts of files will be generated in the drafting process. The folder structure can be used to ensure a files location indicates its relevance. Files will be held locally on a pc and auto backed up to a one drive folder.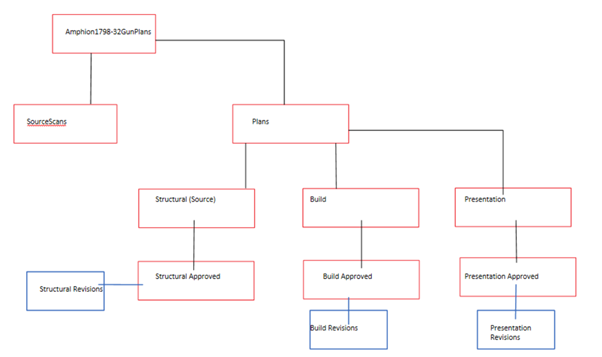 Source Scans: Contains the scanned version of any source plans. Will not change once added
Plans: Parent plan folder. Will only contain other folders.
Structural: (Or source). This will contain master plans that will be used in the building process to generate the actual working plans. As an example the sheer and framing plans will appear in here
Build: This will contain plans intending to be built off of. Individual frames, keel sub plans etc
Presentation: This is for helper plans that show, usually styalised versions to assist in building. Examples include the 'fish' plan and subsections showing how parts go together or what they are called
Each of the three main working folders (listed above as Structural, Build and Presentation) will contain a sub folder called '[Primary Folder Name] Approved'. When a plan is regarded as complete it will be moved to the relevant Approved folder and its file name adjusted.
Each of the three Approved folders will have a sub-folder named '[Primary Folder Name]-Revisions'. When an approved file is changed the old version will be moved here and only the new version will reside in the approved folder. This means that there should only be single files in the approved folder but both the working folders and revision folders could contain multiple files.
Change log
A change log will be generated and held in a one note page for each primary folder. This will list the file name, the added date, the superseded date and either a 'current' indicator or a description of what was changed and why. I.e

File Naming Conventions
TCW Files
AM-[Zone]-[Friendly Name]-V[number].tcw
'AM' is the project name (in this case short for 'Amphion')
Zone indicates which working folder the file is intended for. Currently ST for Structural, BU for Build and PR for Presentation.
Friendly Name will be an appropriate name for the file in question i.e Sheer or Keel etc
V[number] is the version
So a sheer plan may be called
AM-ST-SheetMaster-V5.tcw
Indicating the 5th version of the Structural 'Sheer' Master plan for the Amphion project
Approval
When a plan is 'Approved' (as hopefully complete) a copy will be moved to the approved folder and its name will change to
AM-[Zone]A-[Friendly Name]-RC[number].tcw
RC is a software development short hand for 'Release Candidate'. Therefore there are two visual indicators that a plan is complete - the 'RC' version and the 'A' after the zone. So if the above sheer plan is regarded as complete then the copies name would ne
AM-STA-SheerMaster-RC1.tcw
Copies will be made to prevent accidental adjustments of originals.
Paper Space Naming conventions
This will be different to the file name and is intended for printed versions of complete plans as opposed to draft versions. This naming convention will be
AM-[Zone][Plan Number][Plan Subset]-V[Version]
Only approved plans will have paper space so the above sheer master might have a print name of
AM-STA-5-V1
So version 1 of approved structural plan 5. All printed plans will also have a name describing the plan and a separate title.
So allowing I stick to the above if I down tools for a year or two and return then I should be able to at least ensure I can access and find the correct current plans.