I've been trying to get a grasp on typical naval ship ammo loadouts for the period starting with the Austrian War of Succession and ending in 1815.
The one solid reference I found is of course for the Royal Navy (recent studies suggest that roughly 98.2% of all information on Age of Sail warships is about the RN), saying typical loadout in 1790 was 60 rounds per gun (RPG) round shot, 10 bar shot, and 6 grape/cannister. This more or less agrees with the endless anecdotal references to the RN much preferring to aim low with round shot, and shooting to disable rigging was a rare case usually involving an enemy attempting to disengage.
That said, it still seems to be a pretty inflexible loadout, I would have guessed somewhat more for bar and cannister. Also, did the RN make no use of chain shot? I'm aware bar served the same basic purpose but I've never seen an effectiveness or range comparison.
I've found no useful information for the French, Spanish, Dutch, or US other than the typical "French always aimed for the rigging" which always seemed a gross oversimplification on several levels, I was glad to see Sam Willis agreed with me in Fighting at Sea in the Eighteenth Century: The Art of Sailing Warfare. I've seen little clear info on the Spanish, if I had to guess it seems they were somewhere between the English and the French in shooting at hull or rigging. And regardless, I've seen no numbers specifying the breakdown of round/chain/cannister rounds per gun. If anyone has this or at least educated estimates, it would be much appreciated.
Second thing is the project I am working on calls for quality, full-color ship top views. I've generated some that I need via purchased and modified 3D models (20+ years of 3DS Max too, I go back to the DOS version before it was MAX), but as you gentlemen and ladies know better than anyone, a sailing ship is a complicated machine with metric farktons of complex bits everywhere. So although I'm fully capable of generating excellent 3d models, I'd like to finish this project before the end of time itself if possible.
So I've been adding depth and color to some model plan top views. Again as you folks know, we have wonderful collections of the original ships' plans still accessible, but detailed deck plans are rarely included as that wasn't considered part of the construction of the ship but of fitting out, and as far as I know if fitting out plans were even created, we don't have them.
So I'm mostly limited to model top views. I have no hesitation to buy a set of plans if it has what I want, but I'd like to be sure first. First I'll attach an example, showing the starting and ending points - the starting point was cutting that section out of an Aeropiccola Serapis. I then used photoshop to add color, depth, light and shadows until I had what I wanted, that file is also attached.


What I need (remember this is 1740-1815):
France: 1st rate, 2nd rate (I might be able to use the Montebello plans floating around, but the main deck is split over several sheets and isn't exactly detailed).
Spain: 3rd rate, frigates
Dutch: pretty much everything. I'd like to include some things from the Fourth Anglo-Dutch war.
Danish: I got nada, would like to include Copenhagen but only if I can get art assets that meet the grade and ship data, latter I can mostly get from threedecks.org.
As for what I'm working on, it's a game and I'll attach a couple screenshots. For now it remains a personal project but I'm considering commercializing it. Getting close to needing testers if anyone is interested, send me a PM. I'm new to this particular forum but I assume they have a PM system.
If I do commercialize, licenses or purchases will be made for any art assets I make use of that I don't already have; making a zillion dollars is not a relevant consideration, but doing things right always is.
One more thing, I won't be answering any questions about this project here for now, sorry

. If you PM me and I get you set up to test, then you'll learn all about it. But the screenshots should tell you that most of you that have played age of sail games will find it familiar. Well, one thing - it's an engine/framework, and is specifically being designed to handle anything from 1v1 to very large fleet engagements and it's already able to play those through so I'm certain of this

. Everything is entirely dynamic, driven by scenario files, and those aren't difficult to spin up.
Attack on Ferrol, Aug.25 1800, assuming both sides were a bit more aggressive.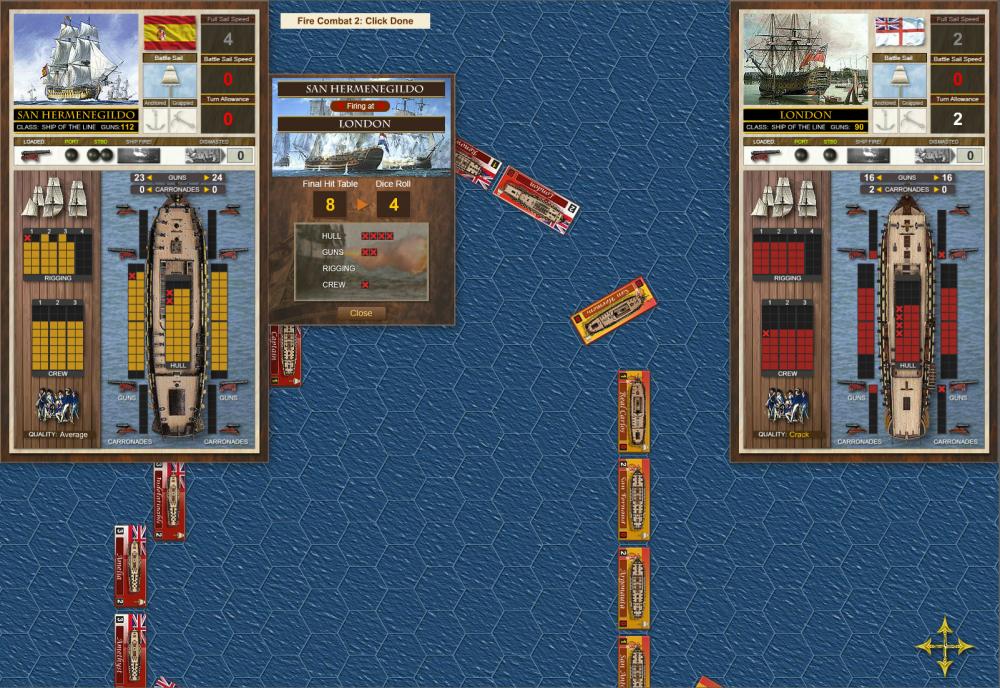 USS Constitution and President vs. Le Courageux (74 3rd) and L'Hermione (36 5th), latter already struck her colors due to severe beating by President. Entirely hypothetical, created it to test both the US and French art assets and also to have something with shooting on turn 1 to test the new ship info screens that I just got done implementing.
To give you an idea of what I mean about entirely dynamic, we see one of three versions of French ships, this flag and counter background are for 1795 on. We have counters and naval ensigns that are correct for the 1790-1794 period, and another for pre-1790 using the plain white naval ensign. On the Spanish side, these counters and flags are used from 1785 on, earlier scenarios will use the earlier white ensign for the info screens and counter backgrounds. Scenario designers don't have to do anything but specify the date of the engagement, rest is handled by the game.
We have five different water backgrounds (Atlantic, Pacific, Caribbean, Pacific Shallows, English Channel, and Alluvial (brown), each with two hex grid options (one more visible than other), and a player pref can enable/disable hex labels (column/row, helpful for setting up scenarios if nothing else).
On the info screens, player has the option of using solid colors for the active squares as seen above, or naval ensigns (again correct for the year!). There are three options for the damage X, again settable by player.