For those of you who have been directed here from my Armenia build in the 'Build Logs for SCRATCH SHIP MODEL PROJECTS', please bear with me. For those of you not coming from that build link I will be developing a 3-D model of the Hudson River sidewheeler, Armenia. Briefly, the Armenia (1847-1886) was built by Thomas Collyer, New York. She had a wood hull with an overall length of 187 feet, a molded beam of 28 feet with an extreme beam of 50 feet with a depth of 8 feet 6 inches. She displaced 391 tons. She was powered by a Henry Dunham vertical (walking) beam engine. The paddlewheels are 29 feet 4 inches in diameter by 8 feet 3 inch wide. I will be following drawings, by F. Van Loon Ryder dated 1954, 1/8" (1:96) scale, resized to 3/16" scale. The purpose of building this model is to help me better understand how to actually physically build this model from scratch and to learn 3-D cad.
I will be building this model with AutoCAD version 2013. I've used AutoCAD for close to 30 years now but never its 3-D functions. This will be my first attempt at a 3-D model so all you proficient users of 3-D cad, if you see me doing something really stupid please don't hesitate to let me know. That goes for all you steamboat experts also, as this is my first steam powered boat, if you notice that I am making some major faux pas on the ship please let me know.
Alright enough talk lets draw something.
I started by scanning the hard copy of the drawings and making .tiff files of them. Those files were then inserted into AutoCAD and scaled to 3/16" (1:64) scale. Using the Body Line drawing I laid the keel using a polyline and sweep command.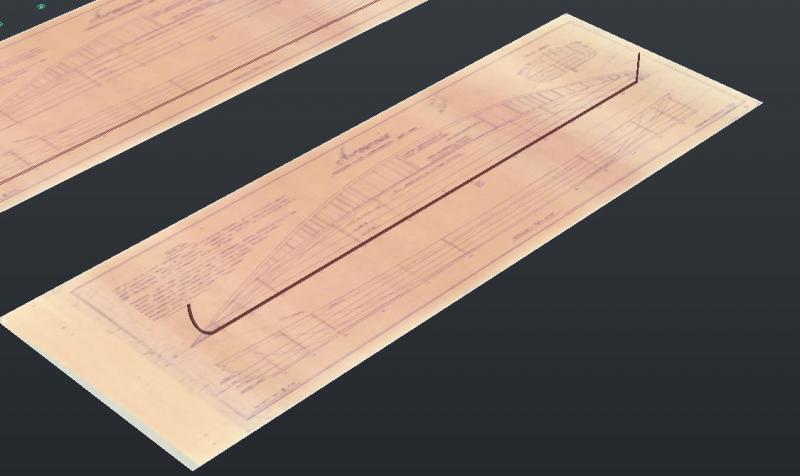 Next I used polylines to trace over the body line cross sections. From these tracings I extruded the bulkheads needed to form the hull.
A little a## backwards with this next step but using the bulkheads I formed the bulkhead former. Slots were made in each bulkhead with matching ones in the bulkhead former. These pieces will be used as templates to construct the actual model.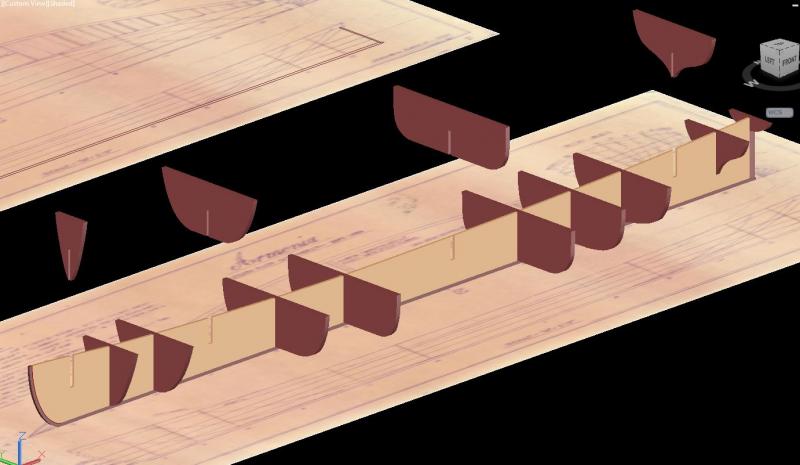 Once all the bulkheads and the bulkhead former (BF) were completed I used the 'loff' command between each bulkhead to create the hull. OMG, if real planking could be this easy.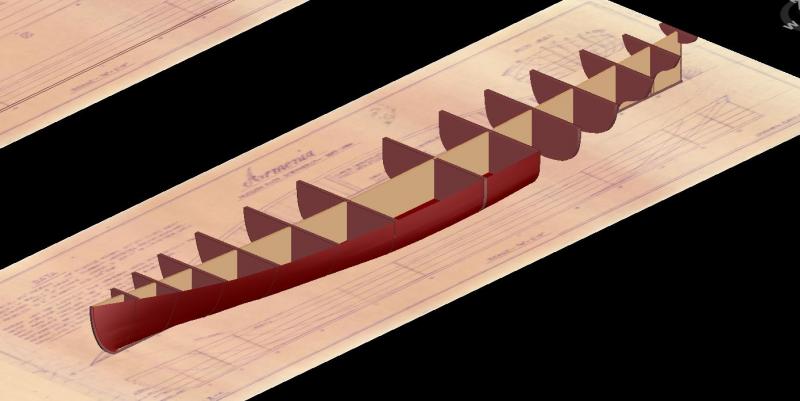 Hull complete.