My next model is the La Renommee kit from Euromodel: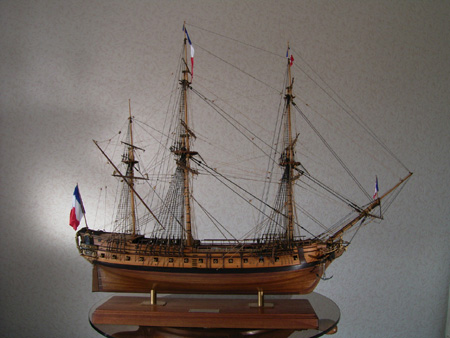 This kit has been on my wishlist for quite a long time. I believe someone had a beautiful build log going pre-crash with MSW 1.0. That image stuck with me, as well as the Kenji Nakajima model pictured above. As far as I can tell, the only log going here is from J.P., who is doing a masterful job and setting the bar very high!
I bought the kit on eBay a few months ago. I originally was going to build this after I finished the Pegasus and Charles Morgan, but given how much I have been bashing those two kits, I thought it would be a nice change of pace to build a kit from the box (even though Euromodel kits often encourage builders to take advantage of the incredible plans to enhance the kit). I also have the Euromodel Friedrich Wilhelm zu Pferde on my shelf -- a really amazing kit -- but I want to better my skills before tackling that kit to do it the justice it deserves.
When my kit arrived, I realized not only was I missing Plan Sheet 1, but the keel was pretty warped (it had obviously been sitting somewhere for quite a while). I contacted Euromodel, and Massimo Mazza was incredibly courteous and helpful in replacing both for me. To show my gratitude for Euromodel's kindness, I decided that I would start this model alongside the others. I just hope to do the kit, Massimo and the other folks at Euromodel proud by my efforts!
One thing I should mention is that this kit is in Italian and has limited instructions. However, Euromodel, together with MSW's own PiratePete007, have done a really nice job in providing translation and other materials. In particular, Pete has really done us model builders (and Euromodel) a great service in putting together very detailed guides on how one can go about putting together models from the Euromodel line-up. Those guides are really well done and very insightful, especially for me as I am on the beginner end of the spectrum, so a big thank you to Pete!
Edited by Landlubber Mike, 25 September 2016 - 03:40 AM.