There have been many discussions and opinions about glues...which one to use... when to use it or not.... which is the strongest..... Many newcomers often ask these questions and I know myself I was told to use one type and have used it ever since. So for my curiosity I thought I would put some of these glues, the ones I have, to test and thought I would share the results with you.
My little test consists of testing CA, Weldbond and Titebond. I applied these to bare walnut strips then to walnut strips that had three coats of wipe on poly. The laminated strips were clamped and left for ten days before I tried to separate them, to separate them I used an X-Acto knife. I inserted the blade in between the pieces and wedged a/o cut the pieces apart.
First photo shows the pieces, on the left are the bare wood pieces and on the right are the pieces that have had wipe on poly applied.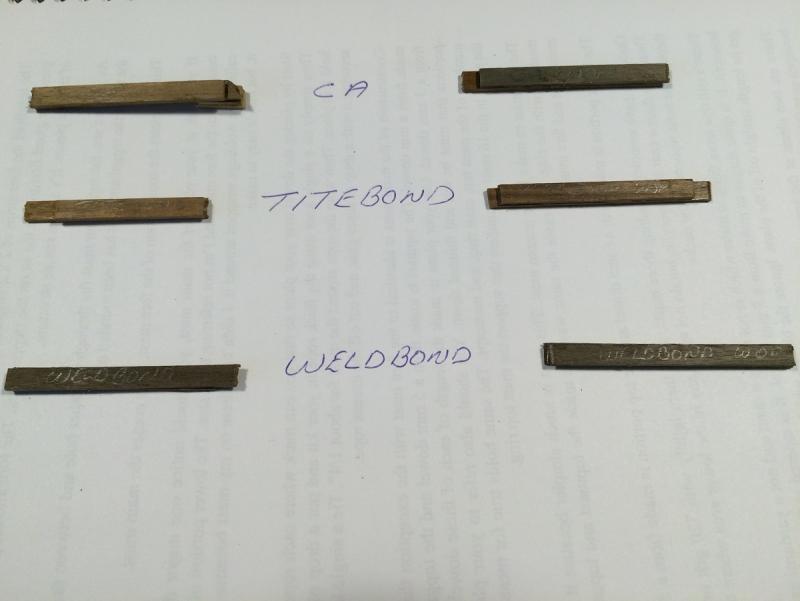 First was the CA as you can see it splintered some, as far as being hard to separate it was medium I am thinking the splintering was a result of grain pattern more than anything else. The poly treated was was difficult to separate and resulted in lots of splintering.
The Titebond on dry wood was very difficult to separate and caused lots of damage. With the poly applied it proved to be very easy to separate and I probably could have used my finger nail to do it.
The Weldbond showed no real difference when applied to bare wood or wood with poly on it. Although stronger than Titebond on poly it did not have the adhesion Titebond did on the bare wood. I would say it was slightly stronger than CA on bare wood.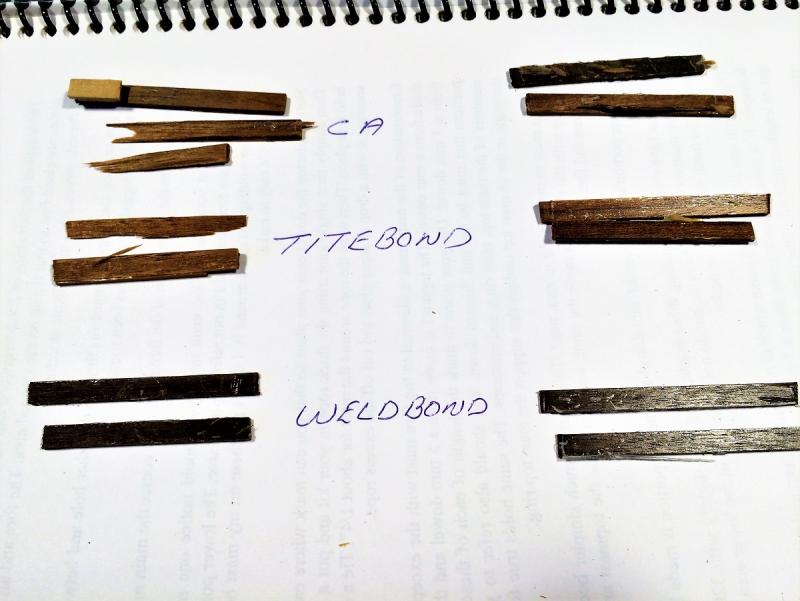 What's my take on all of this?
Bare Wood: Titebond, Weldond then CA.....but it really is so close between these two as to which one should be second
Wood with Poly: CA(by a landslide), Weldbond and Titebond....
So if you are gluing bare wood to bare wood Titebond is by far the way to go and if you are gluing finished surfaces then CA without question is the choice to go with.
This just what I have found out by doing this very UN-scientific experiment, I am by no means advising you to change the glue you are using now