The tools needed to get started in card modeling are ridiculously few. Basically, you need a cutting tool and some glue. Everything else is optional.
Here's some basic tools: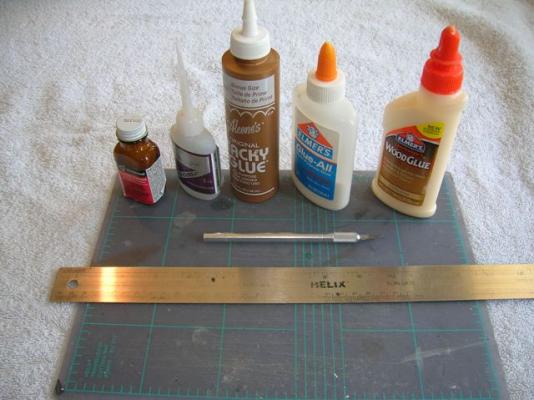 You'll need a self-healing cutting mat, available from most office supply or crafts stores. Next, you need something to cut with. Notice the lack of scissors in the picture. Most card modelers rarely use them. Instead, your garden-variety craft knife will do the job nicely and with more precision. Get a good supply of #11 blades -- card can be surprisingly hard on them. A steel rule is a must, not just for measuring, but more importantly for cutting straight lines.
Glue is, of course, essential. A variety of glues will do the job, and each has merits and drawbacks. Good ol' PVA glue, either white (such as Elmer's) or yellow (wood glue -- hey, paper is wood, you know) are good general purpose glues with one proviso: it must be remembered that PVA glues are water-based, and card or paper will absorb the glue and deform. Thus, PVA is not good for gluing large surfaces together.
Cyanoacrylate glue, or CA (commonly known as 'Super Glue', which is a brand name), has its uses in card modeling. Fast-cure CA can be wicked into card stock to stiffen it, and medium-cure CA is useful for gluing parts made of different media together, as well as for paper-to-paper bonds.
Contact cement (not to be confused with rubber cement) is a non-water-based glue and thus good for gluing large surfaces together where severe warping would occur with a PVA glue. Contact cement sets rapidly, so repositioning of parts once they come in contact with each other is iffy at best.
Modelers in Europe have access to UHU-brand glues that some modelers swear by. I haven't come across any myself, so I haven't had a chance to try them out. Polish modelers, who seem to be born with a master card modeler gene in their DNA, use something called 'butapren'; I'm not a chemist, so I'm not familiar with what exactly butapren glue is, and it doesn't seem to be easily available in the US, possibly because it is a favorite of glue sniffers. Perhaps someone with knowledge of this substance can fill us in.
Now, on to some optional stuff that you'll probably want to have on hand: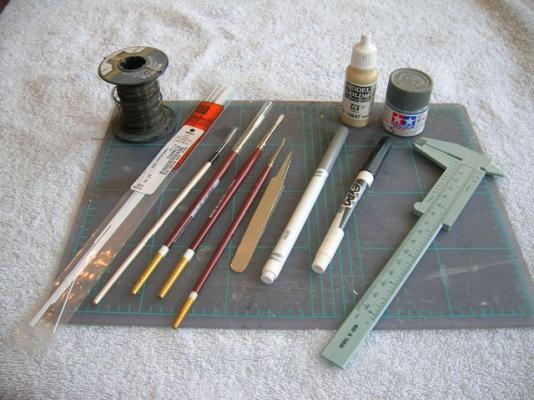 From left to right we have:
blackened, annealed wire - an assortment of diameters is useful for making gun barrels, railings, etc.
styrene rod - card can be rolled into tubes, but for tiny tubes, styrene is often a better choice
assorted paint brushes - for painting, but also for aids in rolling tubes
tweezers
paint, marking pens, or other media for coloring cut edges (more on this later)
calipers - for measuring card stock thickness, especially when laminating sheets together
hobby pliers (not pictured) - for cutting and forming wire (end nippers, needle nose, round nose)
Some other useful items to have are thin, flexible, clear acetate sheets (for glazing windows), matte clear spray varnish (for prepping parts sheets), and 3M spray adhesive (for laminating card and/or paper sheets together). 3M costs more than other brands, but take my advice, it's worth the money. Cheaper brands don't coat as evenly and produce clumpier spray patterns. Trust me -- I learned this the hard way.
I'm sure there's some other stuff I forgot to list, but I'll add those if and when I remember them. Now, go get your supplies, and we'll move on to the model!
Back to Part III: Shopping for Card Models On to Part V: Building V108 - The Hull