Steamship Heinrich Kayser
Introduction to this build log, by Nils Langemann
The steamship Heinrich Kayser was launched in 1898 baptized to its birthname "Elbing" and was one of the typical new fast merchant vessels built for the D.A.D.G. (Deutsch Australische Dampfschiffahrts Gesellschaft) shipping company at the FSG shipyard in Flensburg, northern Germany. It served the trade route Europe via Cape of Good Hope or via Suez Canal and the red sea and across the Indian Ocean to several Australian Ports together with her sister ships on regulary basis for many years.
After WW1 and in compliance with the Treaty of Versailles demands the Elbing went under command and management of a british shipping controller, from which the "Elbing" was bought back again by the Hamburg based Kayser & Sohn shipping Company in 1921, which renamed the vessel to "Heinrich Kayser". In 1922 my grandfather was appointed as the master in command on its last fatal voyage from England to the US eastcoast, down to Florida and back touching Norfolk Virginia as last port and thereafter went down with all aboard her in a heavy full gale and with broken rudderchain and broken hatchcovers. The last SOS radio signals came from position of the New England Seamount Chain, some 500 miles off the US eastcoast where the Atlantic is 5000m deep. No survivers, not a trace was ever found. This type of ship was a mere cargo steamer of 5600 tons, which may have been able to accommodate 2-3 passengers, midships. The Heinrich Kayser was capable of cruising at max. of 12 knots with her twin-boiler arrangement in tandem setup, and having appr. 20 firemen (stokers and heaters), working in shifts to keep the boilers at pressure accordingly.
I built this model, which is already completed to date, after a shipyard overview plan in honor to my grandfather and all its 43 souls crew and three passengers.
It is only a couple of weeks ago that per incidence, and 91 years after that foundering, on a raised web forum thread I was able to take up contact with an american lady, who`s great grandmother as well as her great aunt have been on board the Heinrich Kayser at that time and lost their lives as passengers way back in 1922
The build log shall comprise probably 21 individual parts due to limit of pics per post, and shall document all building sequences in pictures. Comments, questions, etc. shall be welcome and answered along with the build log as it grows.
The model took me appr. 1800 manhours to build over 2 years including the search for a plan, new modeling techniques like metal- plating /"riveting", soldering, glass-case making, all trials, etc.
The fully completed model can be viewed in my album (steamship Heinrich Kayser) under topic : Gallery of completed scratch built models
Have fun and enjoy whilst studying this oldtimer steamer of 1898 in its buildup
Nils
Here it Begins.....
Build log part1
this is one of the ship under its birthname "Elbing"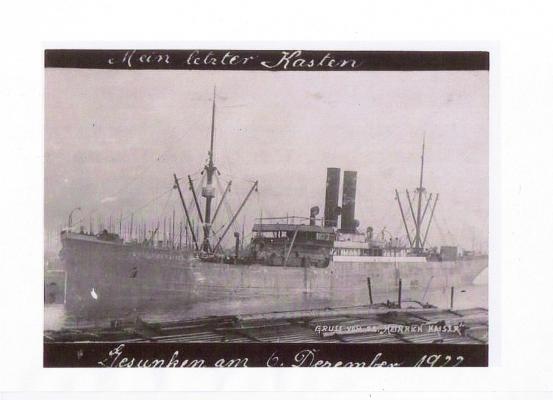 this is one of the very last Pictures of the Heinrich Kayser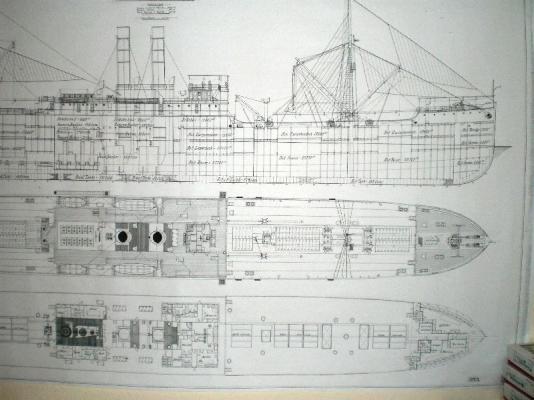 overview plan frontsection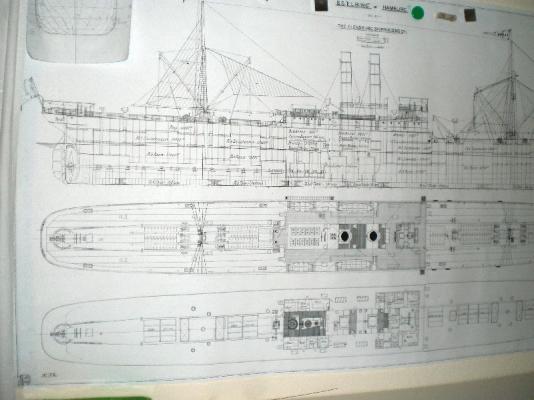 overview plan aftsection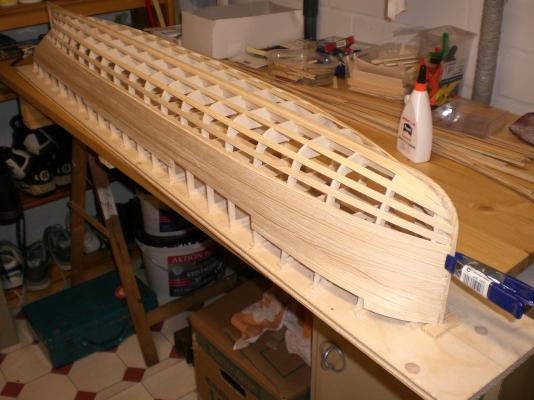 stringers and single-layer planking in pine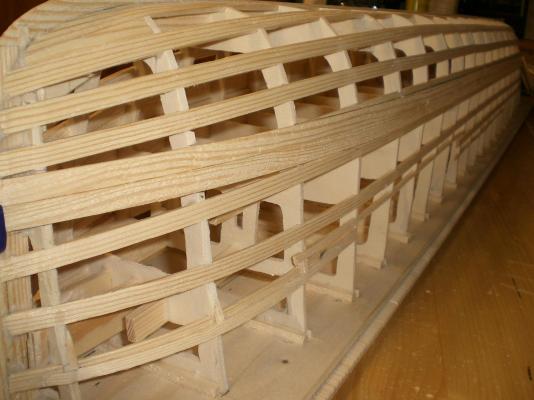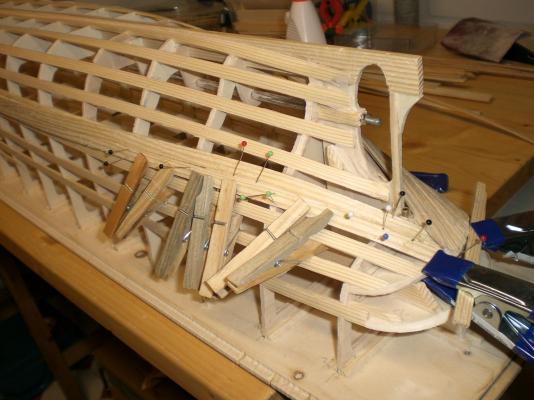 planking under way, propshaft built in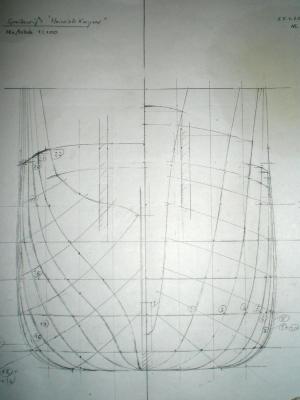 Frame plan, self drawn, not included in overview plan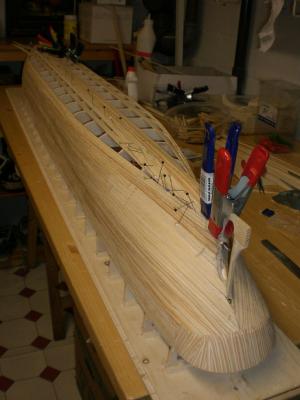 planking nearly completed
Part 2 to follow....
Edited by Mirabell61, 09 February 2014 - 11:17 AM.