During the course of building my Scratchbuilt model of HMS Vulture I've encountered some problems (don't we all

) so I thought I'd share some Tips on how I Fixed them.
There are three examples shown below - feel free to add your own "misadventures turned to masterpieces" below.
The first and most important "tool" when faced with an apparent catastrophe is the Right Attitude. Some would pick the model up and throw it against the wall, but that's not going to fix anything except a very short-term sense of frustration

.
Remember this point - 98% of Mistakes are YOUR OWN FAULT .... NOT THE MODEL'S. The exceptions are if a large truck or a hurricane demolishes half your workshop taking your ship with it - not much you could have done to prevent THAT

. And don't blame the cat for jumping on the workbench either - what was it doing in there in the first place??
Stay calm, sit down for a few minutes and think of a solution. Keep a positive attitude, convince yourself that ANYTHING CAN BE FIXED (because it CAN

).
_________________________________________________________________________________________________
The first one is a fairly simple fix to a problem that many Builders, whether Kit or Scratch, Advanced Builder or Novice, can encounter at any time:
Gaps in Planking
There are quite a few reasons why you may get a gap or two in your planking - inexperience, not beveling or tapering correctly, a slipped clamp or pin, bad lighting (couldn't see it), rushing to finish it before going to work or wherever. I've been guilty of ALL of the above at times

.
The cause of this one : IMPATIENCE - I'd soaked the planks to get a slight lateral bend in them to follow the Waterway. I pinned them in place to dry out, but DIDN'T LEAVE THEM ALONE TO DRY THOROUGHLY before gluing them on.
They looked fine when I first glued them, but two days later the gaps appeared as the planks shrank back to normal size.
Who's fault? MINE
Here's how they looked before the "Fix" :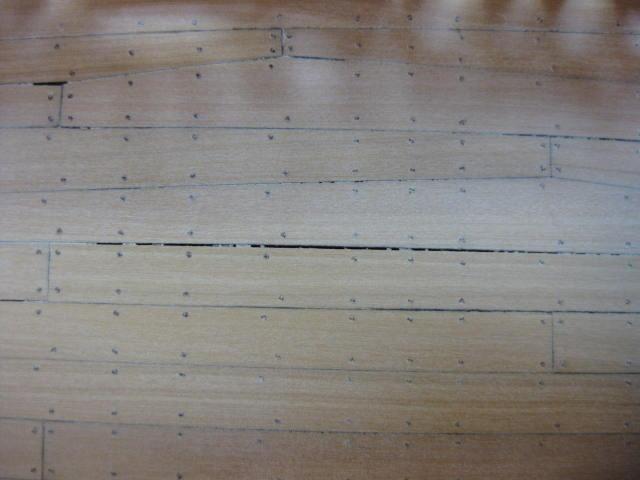 I wanted to leave the Caulking visible in the planking. Fortunately the caulking was done using an Archival Ink Pen on ONE edge of the planks only. If BOTH edges had been done this fix would not have worked very well - the gap would still have been apparent, only to a lesser extent.
The solution was simple enough. I sanded down a scrap of the same Castello timber used for the planking, mixed it with some diluted white PVA glue, forced it into the gap and let it dry thoroughly :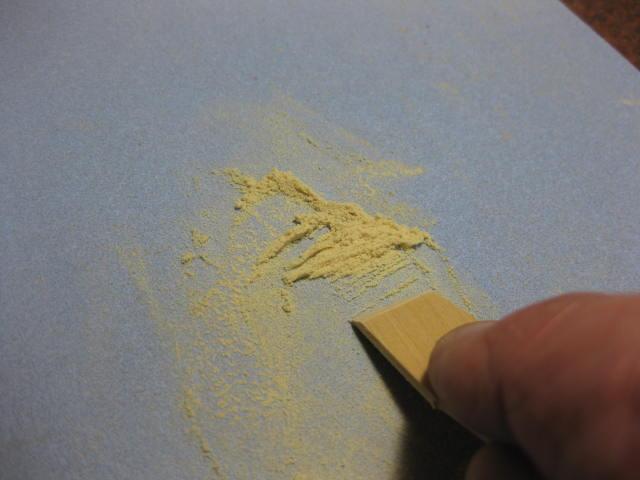 The next two pics show the results after sanding it, both before any finish was applied :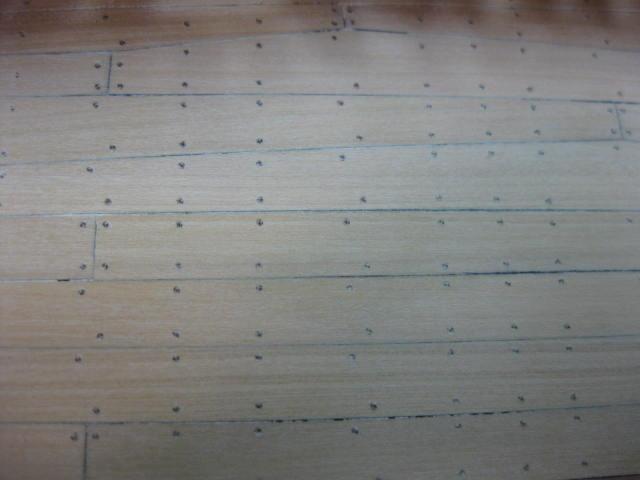 And after a coat of Minwax Poly :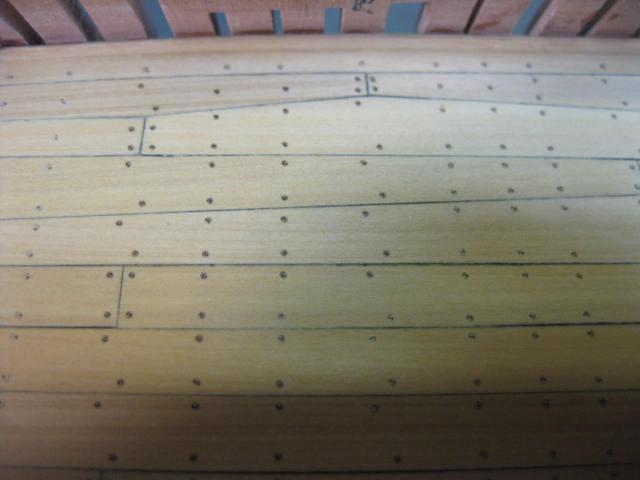 Total Time taken to fix this : About 10 minutes (not counting time while the glue dried).