The convergence of three separate yet ultimately related concerns resulted in the availability to the shipbuilder of a reasonably accurate method to predetermine the displacement (and thus the LWL) for a ship, whether a war ship or a merchant ship, when fully loaded for the intended purpose.
The need to accurately determine the carrying capacity of a vessel (particularly a merchant ship) for collection of duties, port fees and so on.
The desire to identify the form of a ship which offers the least resistance to the water.
The requirement to identify the shape and form of a ship which provides suitable sailing and handling qualities in all conditions, and to handle the intended sails well.
Each of these separate lines of study, coupled with advances in scientific theory and mathematical capabilities, resulted in methodologies that also allowed the shipbuilder to predetermine the displacement from the plans, before construction, rather than having a desired floating level that was dependent on limiting stowage on the ship.
The first concern has already been discussed in an earlier post, with incremental changes in methods leading up to the work of Moorsom in the 1850's, which relied on mathematical approaches developed in response to the other concerns.
Efforts to identify the best form of a ship have been ongoing for more than 300 years, and continue today, although with a much higher level of sophistication. As various approaches were developed to identify the best form to part the water, efforts were also undertaken to mathematically explain the empirical results. Euler, Bouguer, Beaufoy and Chapman are among those who developed stability (and displacement) theories based on initial work around the form of least resistance. Earlier work by Pardies, Renaud and others attempted to provide a theoretical framework to describe the motion of a ship – why it could sail against the wind, for example, rather than be pushed hither and yon. This yielded a method to calculate the dérive (drift of ships or lee way) as a point of reference (see figure from Pardies below).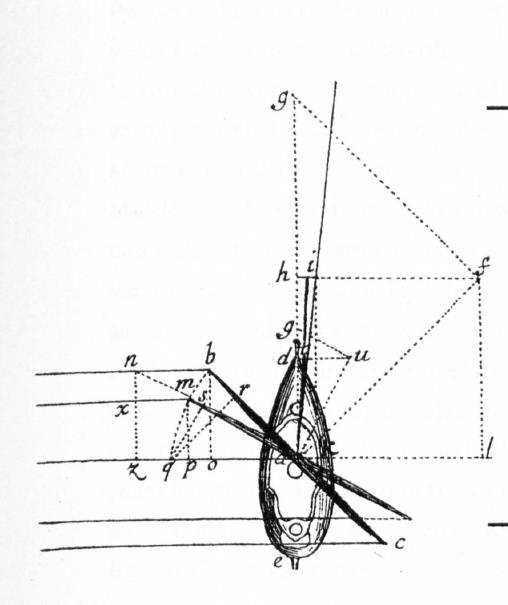 From Pardies, I.G. 1673. La statique ou la science des forces mouvantes. Sébastien Mabre-Cramoisy. http://echo.mpiwg-be.../MPIWG:46XPZMX8.