Today I finished my Hannah Ship in a Bottle kit from Amati. I picked it up on a whim off of eBay for $20 a few years ago thinking it might be a fun little project. I spent a few weeks on it during my Badger build in the summer of 2012 to give me a mental break from that model, and then the model sat for the next two and a half years. I picked it up again this year, spending the last month or so finishing it as a break from my Pegasus build. I decided not to do a build log as I went along, as frankly, I was a bit worried that I'd screw up the project and have to scrap it due to my modifications - in particular putting sea in the bottle. So, rather than potentially embarrass myself, I decided that I would post one at the end if things turned out ok. The good news is that it all worked out in the end and so here is a summary log with pictures I took along the way.
Introduction
The kit is quite nice, with very nice photo etched parts, a nice bottle, and pretty good materials. The instructions are also pretty good. The folks from Amati are incredibly nice as well, as I somehow lost the keel part but they sent a new photo-etched set for free - thank you Amati!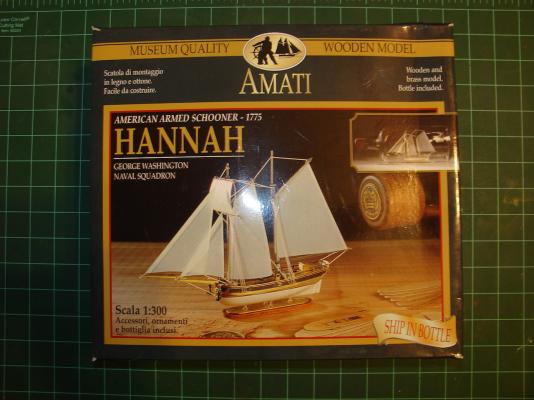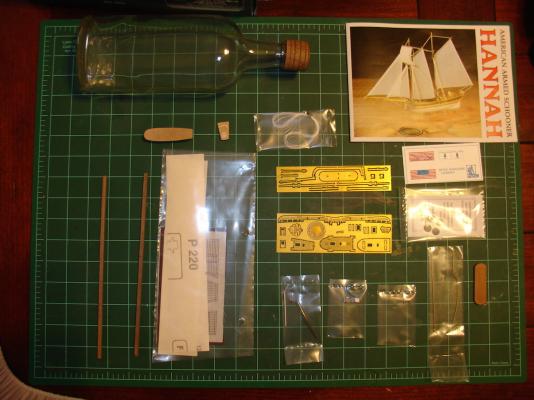 As you can see in the picture below, the kit is designed to have the ship sit in the bottle on a stand.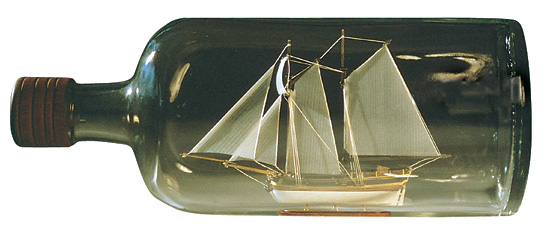 I decided that was a bit plain, and made the following modifications:
1. I painted and stained the ship, rather than leave it in brass.
2. I replaced the kit sails, which were dyed to show seams, with plain cloth. I thought the seams, etc. on the kit sails were a bit out of scale and garish for my tastes.
3. I added "sea" to the bottle.
Adding the sea really complicated the build, but I think it came out pretty nicely. The next few posts go into the construction process.
Edited by Landlubber Mike, 10 March 2015 - 01:46 PM.