Well here we go again. As I said in my last build, the Admiral saw a picture of a yawl and said,
"Why don't you make a model of that for me".
I don't know about you but I find it very difficult to say no to the Admiral.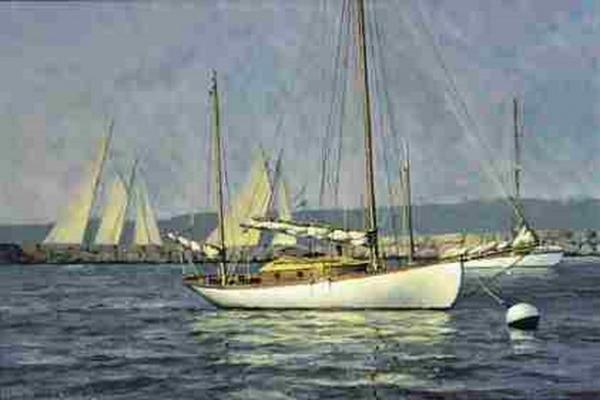 What boat is it? I searched the web and I asked around, the wooden boat forum suggested that it might be the Malabar Jr.
Malabar Jr.
The Malabar Jr. was designed by John Alden in 1924. There are many variations, originally a sloop with Marconi sails it was also built as a gaff sloop and as a yawl, both Marconi and gaff. The cabin was also changed, most had square forward corners but some had rounded corners like in the painting.
I was not able to find a picture of it as a gaff yawl, but the gaff sails would move the center of sail aft and it would require a longer bow sprit to move the jib forward to balance the sails. So that agreed with the painting.
The only problem left was the shape of the bow. In the painting the stem is more perpendicular where it meets the deck. Then the word came from the Admiral.
"The painter probably took artistic license in painting the picture so why don't you take modeling license?"
So unless someone out there can tell me what this yawl is, I plan to build the Malabar Jr. with a Cap'n'Bob bow.
Bob
Edited by Cap'n'Bob, 08 September 2013 - 06:14 PM.