On 5 October, National Ships in Bottles Day, the Ships in Bottles Association of America (SIBAA) announced the start of a group build of Fantasy Ships. The only criteria is that the ships are depictions from art, films, books, movies, cartoons, etc, or from the creators imagination. My first thought was one of Hornblower's ships but decided against any of them. Then I remembered that the covered wagons from the western expansion of the United States were sometimes called "prairie schooners" because of their very loose resemblance to ships at sea. That triggered a visualization of a large Conestoga Wagon "hull" fitted with masts and sails from a Baltimore Clipper and I set to work on drawings to work out the details. When I posted my drawings on the SIBAA facebook page several people mentioned a Disney animated short "The Saga of Windwagon Smith" presented as a classic tall tale like the Paul Bunyon stories.
As soon as I saw the beginning of this cartoon I remembered seeing it in the theater when I was about 9 or 10 years old and that my inspiration for Ogallala must have come from it, so I'm giving credit to Walt for my inspiration.
My intention is to present Ogallala as if it was real including the "real" dimensions, correct rigging, deck details, wheels and necessary wagon details like brakes and steering.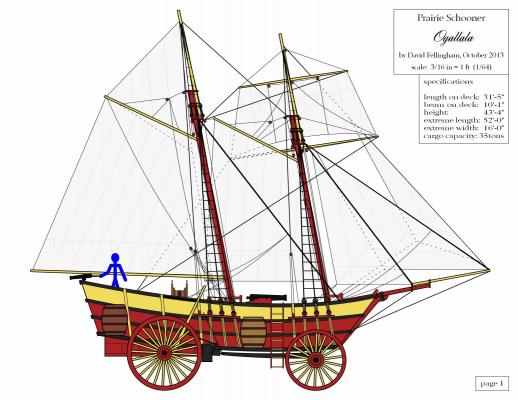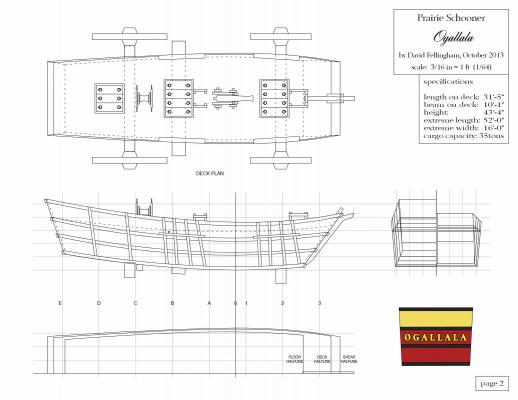 In the time since preparing these preliminary drawings as jpeg images, I found the bottle I'm going to use which requires reducing the drawings from 1/64 scale to 1/96 and preparing individual detail drawings of the components, now in progress. I learned by doing how to generate the usual three view line drawings of the hull from my very simple hull. I have reduced the beam a little so the hull will fit through the bottle neck. The hull will be divided into an upper and lower section with separate wagon frame components all to be assembled inside the bottle.
My first problem is how to depict a "sea" of chest high prairie grass but I'm finding information on how model railroaders do fields of tall grass or grain crops.
Please, don't try to tell me that a "prairie schooner" or "windwagon" is impossible. I know and I don't care - it's a fantasy build and just for fun.

I hope you join in the fun by following the build.
Yippee-ki-yay and a yo-ho-ho!
Dave
Edited by DFellingham, 06 November 2014 - 03:56 PM.