Why scratch?
I always had a high requirements for a wood quality and fitting quality. Unfortunately, even expensive kits were never close to what I want. After getting a first pack of boxwood, I would never go back to any inferior wood (read - kit wood). And I am not ready to tolerate a bad quality in the kit. Hence, only scratch. Not that scary though, I do most of the parts from scratch anyway.
It's a pity that kit producers do not offer a wood upgrade. For a serious build, cost is spreading over a number of years, so is it really so important?
Speed of the build is not important, I enjoy the process. So I take Remco's motto - "Treat each part as if it is a model on its own, you will finish more models in a day than others do in a lifetime".
Why Hahn?
For a weird reason, don't like the realistic framing style, like David Antscherl suggests. First - you don't see anything between frames, and second - uneven spacing and shape of frames make me feel dizzy when I look on them. Physically. I know it sounds weird, but I just can't. So - frames would be spaced evenly, even if it's unrealistic. So what, I'm not adding a rocket engines to my model

Also, Hahn's method for a frame construction looks easier. Yes, the wood usage is higher, but again - why that matters? I will build it for 5 years at least, so paying a bit extra for additional wood is not a problem. And I truly like the design of Hahn's jig!
Why Oliver Cromwell?
This ship has no honorable history. It was built in 1777 in Philadelphia, started a pretty good career - capturing 7 ships in 3 months after a start - but then was defeated by british HMS Beaver. Was downgraded from 24 cannons to 12, and served remaining time guarding british coast. Died in a hurricane after a number of years, slowly degrading and having a continuous problems with discipline onboard.
But there is something in the lines of that ship that touches me. Look on the model - hull proportions are pretty nice. It's not too high, and not too low, and I was looking for that photos a lot, admiring its beauty: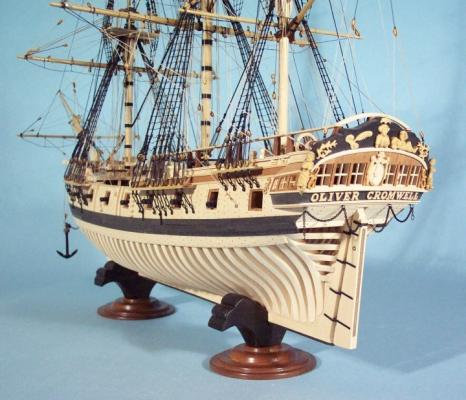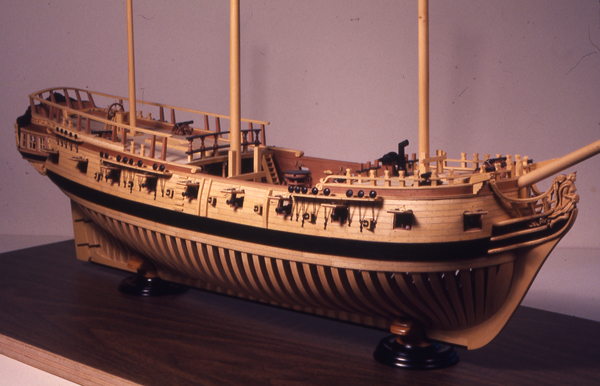 Edited by Mike Y, 25 September 2016 - 09:15 AM.