Greetings all....I'm back!!!
Model Shipways Kit (modified)
Scale: 1:24 1/2"=1'
Circa: August-October 1776
Happy Moon Day!!! I am starting my build log on the 45th Anniversary of the Moon Landing....just because. I don't actually plan on building until the first or second week in August, so I can do some summer stuff. I will be doing some pre-build planning and I may add my thoughts here.
I wanted to get started early so that my small but dedicated band of followers can find a seat.
Background. This will be the SECOND time I built PHILDELPHIA. The first time I did so as a scratch build based on the Model Shipways plans. I will refrain from going into why I chose PHILADELPHIA and save some bandwidth by giving you the link to my scratch build (if I can figure out how to do it). Chux scratch Philly.
It was a fun build, but I had some challenges. I have found that there was an additional sheet that comes with the model that does NOT come when you buy the plans separately. This includes all the templates for bulkheads and other pieces parts. Thanks alot Model Expo for not including that!!! At any rate, it was an interesting build. I entered it into the County Fair Design in Wood Exhibit (Scale model class) and actually got an offer to buy it. By then, I was too attached to it to sell. I offered to make a model from the kit, with boxwood and holly replacing the planking and primary exterior wood, as in the scratch. I figured with the kit as a guide and my experience from the previous build, I could build it much faster and I could correct some problems...both with my build and what I perceived to be with the plans. It also gives me an opportunity to work in a larger scale. Some of those corners got really tight at 1/4" scale.
History. Again, so save bandwidth, I direct you to Philly History. PHILADELPHIA and the history behind it is fascinating. It (and its associated fleet, not to mention many of its adversaries) was built in a few weeks. It 'lived' only a few months. IIRC only PHILADELPHIA and ROYAL SAVAGE were the only two ships sunk during the battle, but within a week or two of the battle the entire American fleet was sunk, scuttled or captured-but it was considered a strategic American victory.
A century and a half or so later, it was discovered, raised and preserved. It exists today, on display in the Smithsonian Institution.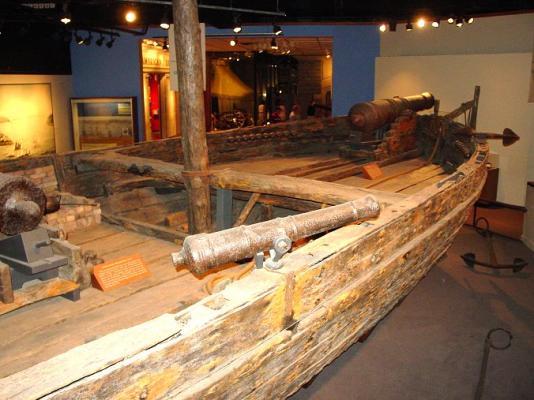 NOW your interest is piqued, eh. I think you REALLY want to go to Philly History and read more about it. Other suggested readings include:
The Gunboat Philadelphia and the Defense of Lake Champlain in 1776. by Lundeberg, Philip K.
The Gondola Philadelphia and the Battle of Lake Champlain. by Bratten, John R.
Benedict Arnold's Navy, by Nelson, James L.