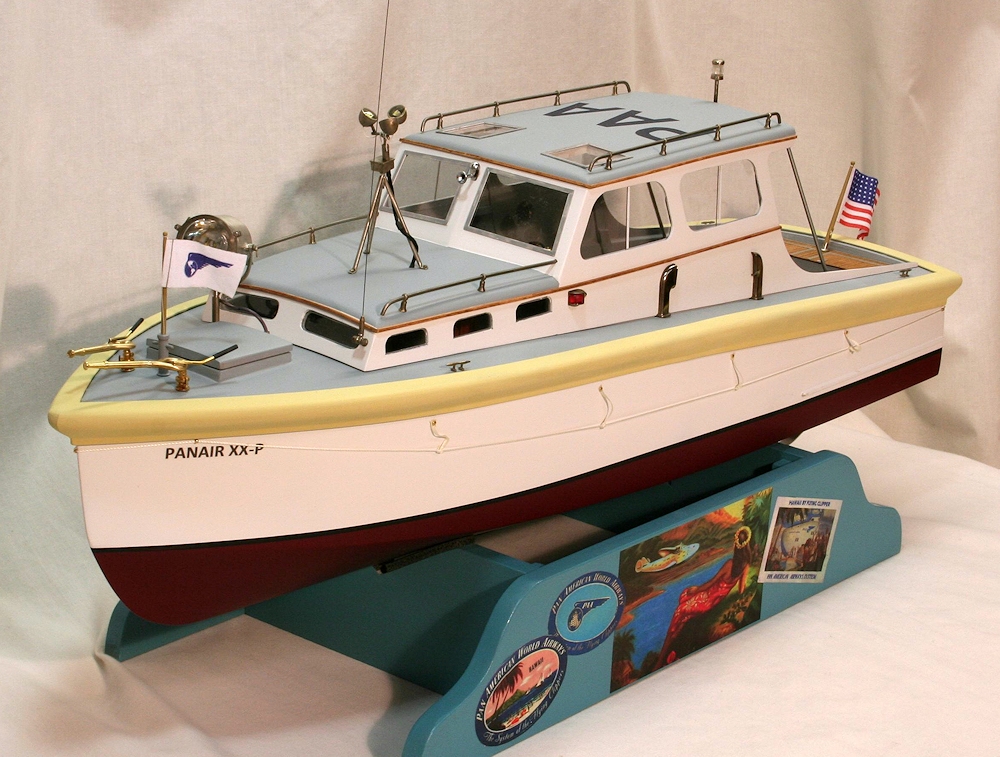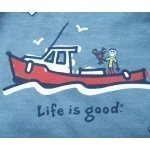 Pan American Airlines was a pioneer in international airline service in the 1930's, making use of seaplanes to service areas without developed landing fields. Their ultimate seaplane was the well known Boeing B-314, the classic Pan American "Clipper".
Every Pan American base, from New York to Miami and Havana, across the Atlantic to Lisbon, and across the Pacific from San Francisco to Honolulu and Manila, had a small fleet of seaplane tenders. These boats were used for a variety of tasks:
· Towing the seaplanes when required;
· Clearing the landing areas of any flotsam;
· Transporting crew to moored seaplanes;
· Inspection and maintenance of floating seaplanes;
· And rarely, for fire-fighting, rescue and recovery.
A number of seaplane tender designs were used, and the boats were often sourced locally. Most were semi-open cabin cruisers in the 32 to 36 foot range. In 1939, a standard 36 foot design was developed. The design was detailed by Walter Boyne Boat Company of City Island, NY, and the boats were constructed by Julius Petersen of Nyack, NY—who also constructed a number of sub chasers and Army rescue boats.
These 36' seaplane tenders were equipped with:
· Hall-Scott Invader six cylinder engine, providing 22 mph speed;
· Kermath 4-cylinder Sea Chief for auxiliary power and firefighting;
· Foamite firefighting foam system, twin forward fire monitors, and fire hoses aft.
· 500 mile range for possible rescue work;
· Multiple benches fore and aft (presumably for rescued passengers);
· First aid kits, fire extinguishers, fire ax, and other tools;
· Lifeline around hull;
· Goodyear "Airfoam" fenders under canvas covers, around entire hull;
· 1000W Carlisle-Finch manually operated search light;
· Flood lamps for under-wing inspection;
· Towing bitt
The boats were assigned numbers that were associated with their bases. This model is "PANAIR XX-P", which served at Honolulu. Panair XX-P is notable for having fought fires in Pearl Harbor on December 7, 1941. The Pan American base was at Pearl City on the Middle Loch, within sight of Ford Island.
Little more is known about the Petersen boats. The Pan Am archives at the University of Miami have yet to yield any information regarding how many boats were built, there is no trace of the Boyne Boat Company, and the current owners of the former Petersen yard have no Petersen records.

The model is 27 inches long in 1:16 scale, and is designed for R/C operation. Plans were developed from many existing photos, and from lines from other contemporary cabin cruisers of the period.

Nearly the entire model-- hull, cabin, and many details, are 3D Printed. Even many of the brass fittings are investment cast from 3D Printed waxes. The fire monitor base is a little more than 1/2 inch high; note the detail in the flange bolts and lock knob. These brass parts can be highly polished and then plated, which is useful for fittings such as chrome plated pleasure boat parts.

Traditional techniques were also used for some parts, such as the rudder and prop shaft, and the fully machined 1000W searchlamp. The lamp is fitted with parts from a high intensity LED flashlight, and it throws quite a beam!

Power is from a pair of 7.2V NiMH battery packs and a brushless in-runner motor, coupled to an Octura 937/3 prop.