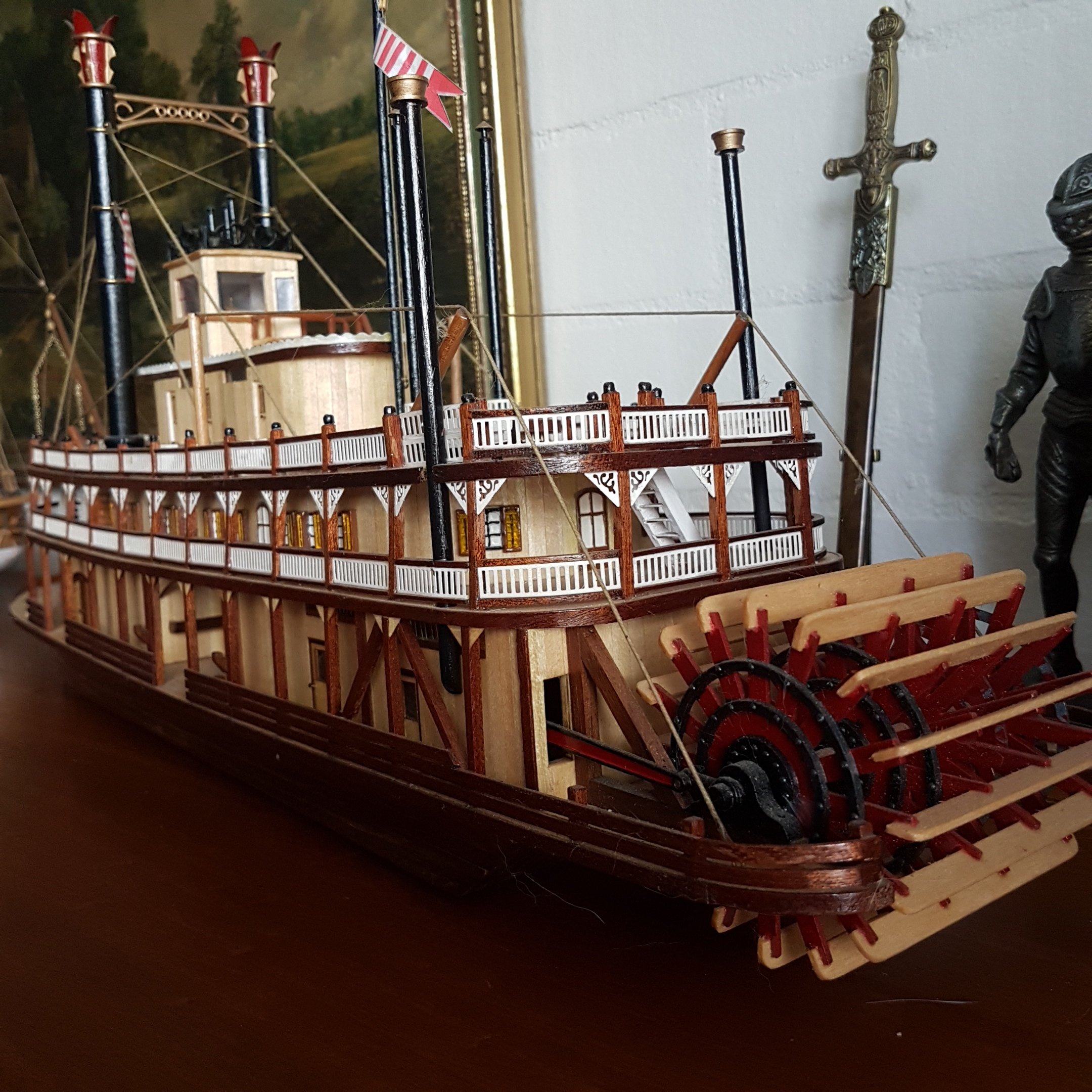 Content count

819

Joined

Last visited
Profile Information
Gender

Male

Location

Perth Western Australia

Interests

Anything to do with wood working. Hanging out with friends, Reading books.
Profile Fields
Full NRG Member?

MSW Member
So onwards to planking the fore deck. Also the green laths are being installed. These are to be installed as a clinker type style. The wooden beams for the both balcony roofs are bent to shape and placed. So far so good.

Thank you Grant for having a peek. These decorations are coming up great. It's putting so much weight onto the model that I had to move it's temporary stand down the keel towards the stern in order for the model to be balanced. Thanks for checking in.

Yes I have seen that too with the build log of greatgallons. But lucky for me this kit must be a newer one as I have already measured and they are fine. Cheers for checking in.

Cheers. Sounds like walnut will be best. The glue, I was just wondering if you are sticking Wood strips to the clay model itself. Not too sure how Wood glue would stick too well to clay. Or you might have to use super glue.

Great job on the skylights. I've never used that Krystal clear before but it sounds like it's magic. Top work.

Im all in for the changes. As for the carvings......um. How are you finding the sergal plans? I dare not ask about the rigging plans. Be Interesting to see how the transom pans out. I'm sure it will be fine. Nice job.

Congratulations on finishing your build. It looks amazing. Well done. Top notch job.

The next stage to start working on the stern galleries roofs and ornamentation. The decorative peices around the windows were painted and attached. Abit of bending and elbow grease and finally got them to fit properly. They are of a soft metal. A 2×5mm strip was bent around the top of what is to become the gallery roof. The green is actually dyed Wood strips that had to be cut and mounted on the inside of the decorations under the windows.

Last few hull planks and it's onto plank the 2nd deck. Mamoli suggest the same 5mm wide planks as used on the main deck to be used on all the decks. But I didn't like the look of massive bulky planks on the smaller decks so I raided my stores for smaller width planks. Also tested heights for cannons at this stage and cut out the 2nd deck gunports ports.

I only found out later, much too late later that the stern planking on either side of the stern post should be at a 45° Angle My fault. It's been a fun process though.

More planking. Planks were simply laid straight over the gun ports and then re-cut out later. I found this easier than measuring and pre-cutting.

2nd layer of planks including strakes being assembled. Tried out new homemade planking clamps but later realised drawing pins do just as good a job.

All bar 4 white metal gunports are in and the stern windows are being placed. The rear is painted black so the windows can go in front. Now onto the final layer of planks.

Aha!! Soon let the sawdust fly!

Rear veiw of stern gallery windows being framed.