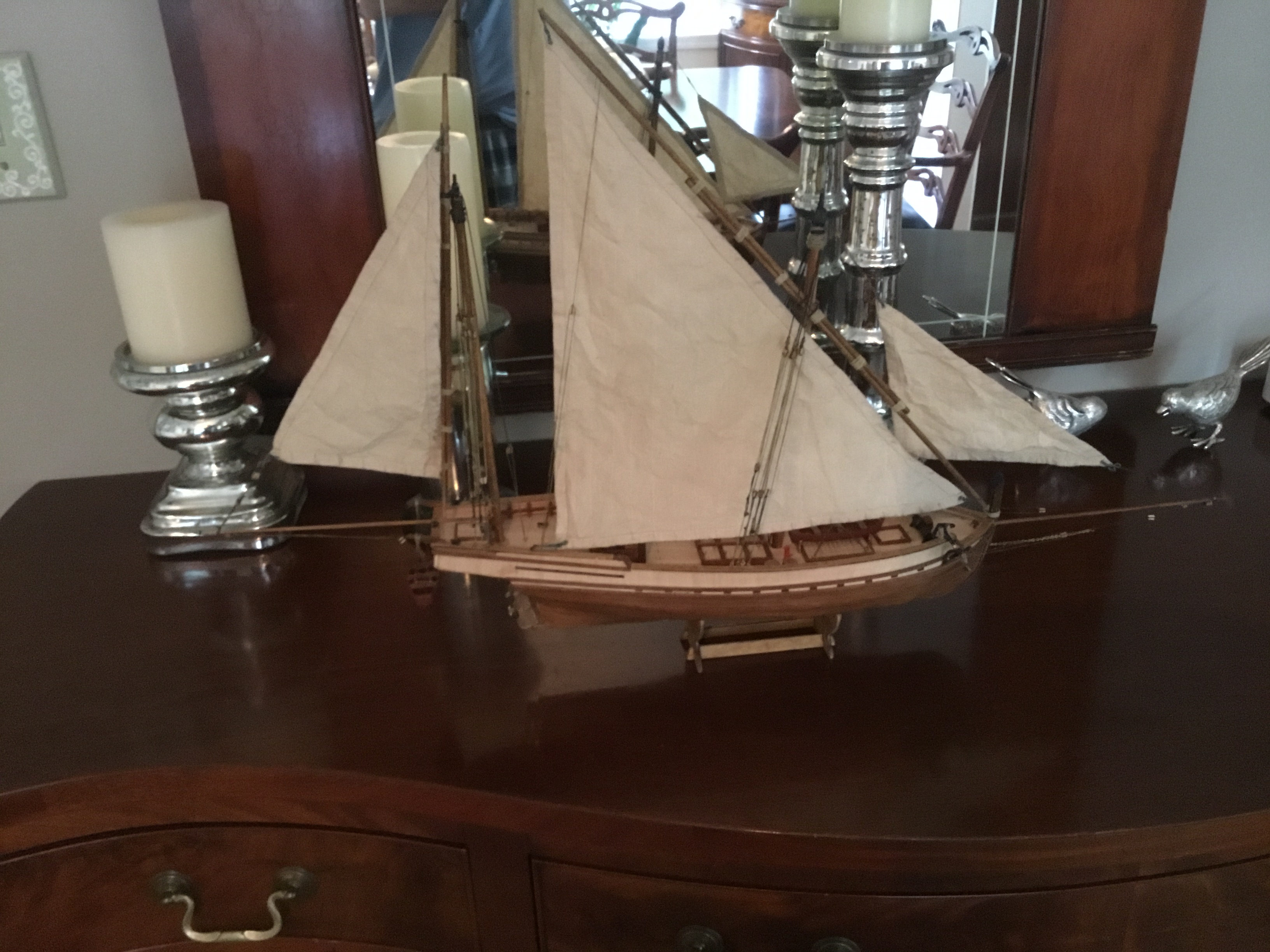 Posts

10

Joined

Last visited
Recent Profile Visitors
The recent visitors block is disabled and is not being shown to other users.
I'm a new modeler, having just taken up the hobby this year, due to COVID. My "trigger" was a gorgeous, elaborate model I saw in a Sushi restaurant. I started with an extremely simple model (a $25 dory kit), and moved up gradually to more complicated endeavors. I recently finished my 4th kit which is a tugboat I decided to customize, and is from the Liman 2 kit from Turkmodel. (I posted pictures of it here). I'm currently working on the Essex kit from Occre. I enjoy ship modelling, and I'm not quitting because: 1. I decided at the start to respect the craft, and assumed that learning it would take a long time. 2. I did a lot of research. I watched a lot of videos, both on YouTube, and on a DVD set I ordered from Modelers Central. 3. I assumed I would make mistakes, and assumed my early attempts would look pretty bad. The goal of those early attempts was to learn, not to make a fine, finished product (although they actually look better than I thought they would). 4. I decided before starting that I would not get upset if I made a mistake, and to treat mistakes as learning opportunities. 5. I bought a lot of tools; many turned out to be of no use, but some have made all the difference in the world (glue syringe! rigging wax! forceps!).

I am new to model ship building, so please be kind ... :0) This is my third kit, and my first attempt at customizing a kit. I tried to emulate the other, much more experienced builder who also made this kit, but I varied somewhat, also. 1. Added copper plating to the hull, painted it black, and used Paneliner & salt streak paint for the salt stains. 2. Painted the deck gray. Scraped bits of a charcoal pencil on the wet paint, & smeared it a bit to try to simulate dirt & grime. Also added this "grime" to the wheel house & other wooden structures. 3. Covered all of this with satin varnish to keep it from rubbing off. 4. Used tires from model car wheels; don't know that these are on the same scale as the rest of the model, but to my unpracticed eye they look to be a decent size; perhaps a bit too big, I don't know. Any feedback & constructive criticism is welcome!

Fantastic job! I just started building this model, too. I intend to build two of them, and to send them to my childhood friends whose father was a tugboat captain. However, I am not an experienced modeler so any advice on how to achieve the weathering looks that you've done would be greatly appreciated. (I don't particularly like the way the model looks when completed according to the instructions in the kit, but I love the way yours looks). In particular, how did you achieve the look of corrosion on the keel? Also, where do you get copper plating? Are any special tools needed to apply the copper plating or do you just nail them on?

Hello! New modeler here; COVID made me do it! Working on my 4th kit, and hoping to learn from the experienced builders here. Specifically, I'm building the Liman 2 tugboat, and thrilled to see some one working on it here, too.