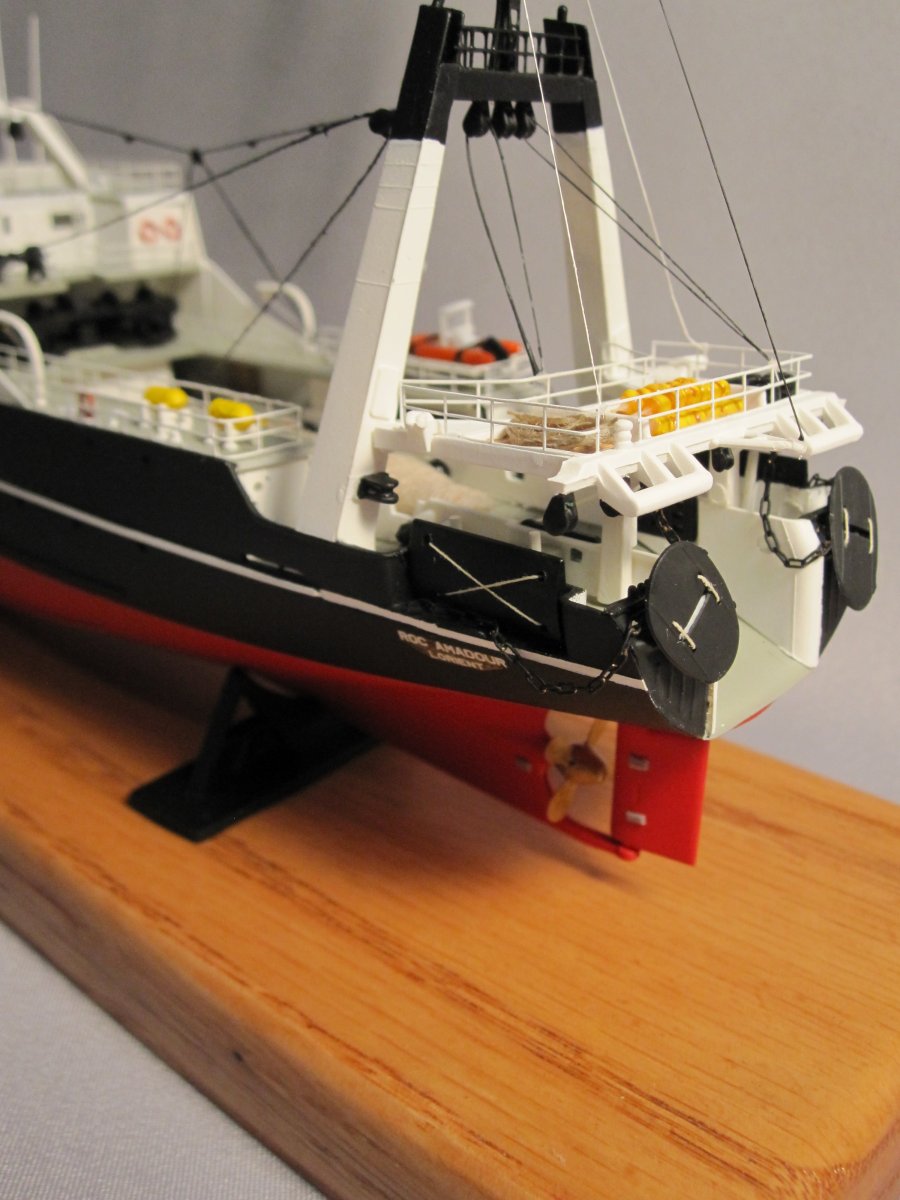 The stern trawler "Roc Amadour" was original built in 1973 by Ateliers & Chantiers de la Manche, Dieppe, France as hull # 1231. After fit out she sailed under various names e.g., Boðasteinur, Patricia IX, and Roc Amadour TG 340. She eventually underwent an extensive rebuilt in Norway and for many years was homeported in the Danish city of Vagar, in the Faroe Islands, southeast of Iceland. Unfortunately in March 2010 she was sold to a ship breaker in Grenaa, Denmark and now sadly awaits her fate with the breakers cutting torch.
This build was from a Heller 1/200 scale kit to which I added detail such as: PE railings and ladders, 'clear view screens' on several bridge windows, whip antennae & searchlight on the fly bridge, lifting eyes on fwd cargo hatches and additional detailing of the rigid hull inflatable boat (RHIB) and its davit. I also added a trawl net and buoys, otter door chains and rigging, stored deck gear aft and hull zincs on rudder and hull.
I used stretched sprue for most of the standing rigging. However I substituted thread for the 2 deck winch cables because in reality these cables are normally heavily laden with grease and do not appear smooth like standing rigging.
Ship Dimensions:
LOA 173.8 ft / 53.00 m
Beam 35.5 ft / 10.82 m
Ship Deck Equipment:
(2) 28t trawl winches
(4) 10t bridle winches
(1) Cod end winch
(2) Vertical capstans
(2) 6t side winches
(1) 28t hydraulic crane
(1) 30t net drum
Main engine:
8 cyl. Inline diesel rated @ 2400hp / 1000 rpm.
Image Comments

Gallery Statistics