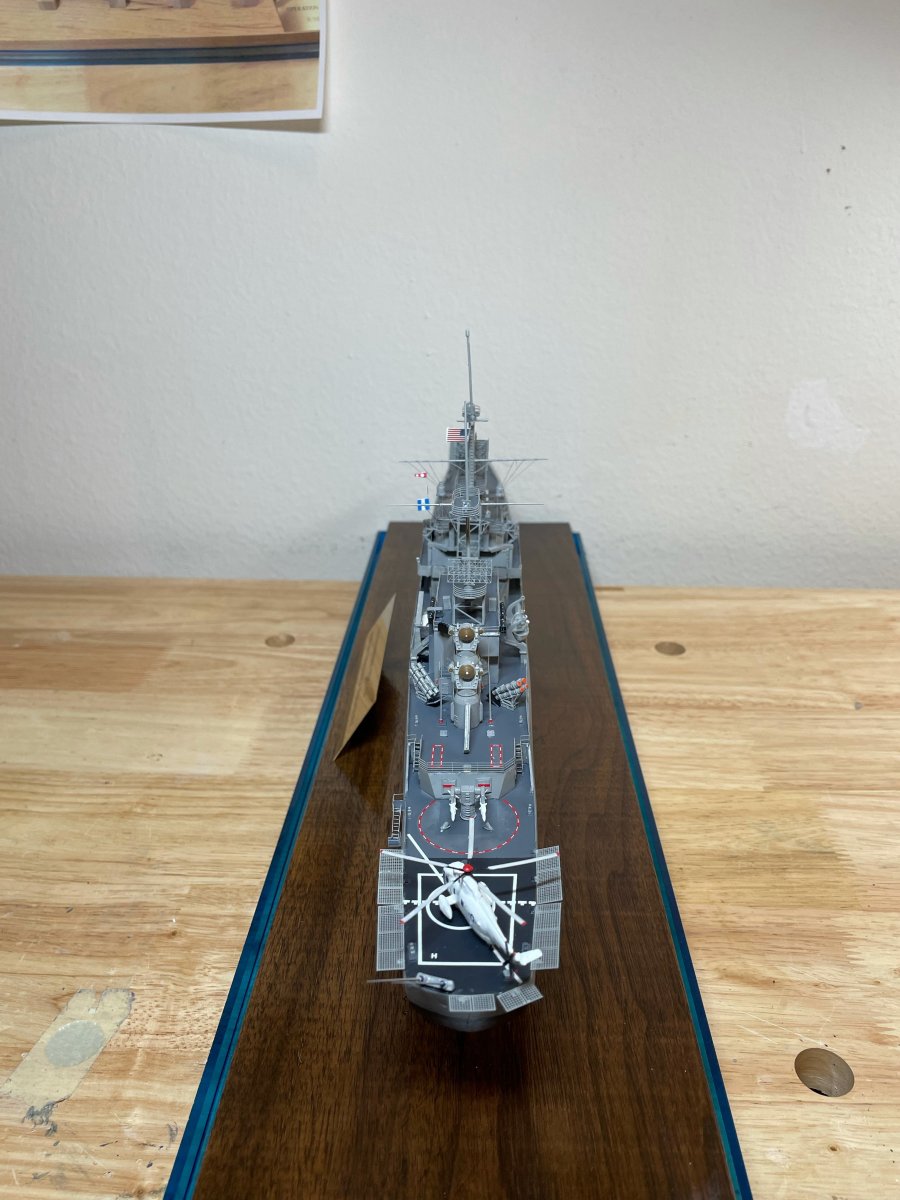 This project is to build U.S.S. Bainbridge (CGN)-25 in 1/350 scale.    The model is for a good friend and fellow Surface Warfare Officer who reported to the Bainbridge in late 1979.
The basic kit is a resin and photo-etched brass model of the Bainbridge in her 1990's configuration by Iron Shipwrights.   I am going to back date the kit to her 1979 configuration as well as improving the kit with third party fittings.  Having previously built Iron Shipwrights' U.S.S. Truxtun (CGN-35), I know that this is not a weekend project.   The instructions are minimal at best.
The conversion requires the following:
Replacing the SPS-49 2D air search radar with SPS-37.
Rebuilding the aft mast to match its 1979 configuration.
Removal of the aft superstructure deck house with served as a base for the aft mast in the ship's      final configuration.
Replacing SLQ-32V3 with the WLR-1 ESM suite and the ULQ-6B ECM suite.
Replacing the canister life rafts with inflatable life rafts in storage baskets.
Removing the foundations for the Vulcan Phalanx point defense cannons.
I will also replace the kit parts with the following third-party components:
SPS-48 3D air search radar
SPS-10 surface search radar
SPG-55B fire control radars
AN/WLR-1G antennas
AN/ULQ-6B antenna arrays
SM-1ER surface-to-air missiles and MK-10 launchers
Quad Harpoon anti-ship missile launchers
ASROC launcher
Mk-32 torpedo tubes
Propellers
Whale boat
Captain's gig
The ULQ-6B antenna arrays were designed by me and then converted to CAD and 3D printed by my local hobby shop.
In addition, I will build an SH-2 Sea King helicopter for the flight deck.   While the Bainbridge was not rated for SH-2 helps, she served as an emergency flight deck circa 1980 for a SH-2 that reported a chip light (metal fragments in the transmission) and needed to land immediately.
The ship will be painted in Measure 13 camouflage, the current standard USN paint scheme, with all vertical surfaces done with haze gray and the horizontal deck surfaces painted deck gray.  
Image Comments

Gallery Statistics