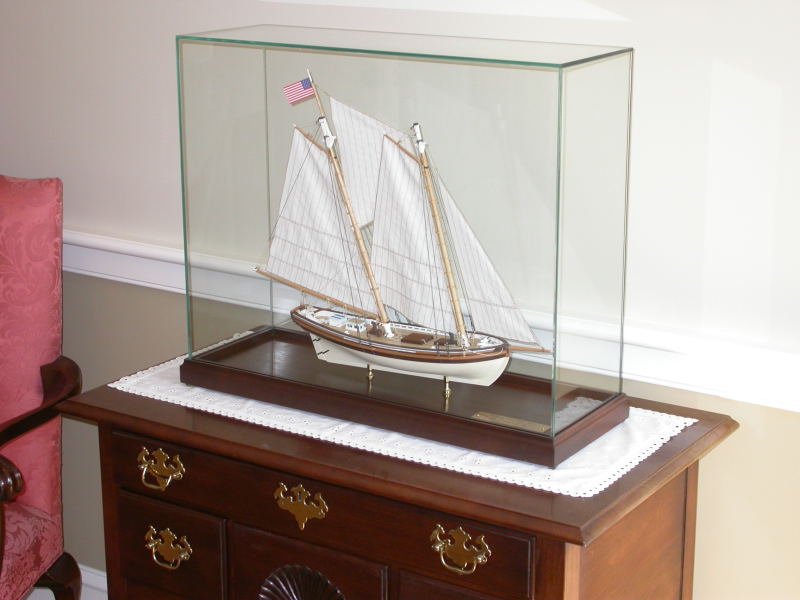 The Virginia pilot schooner "Katy", circa 1800, is a reproduction of a class of period vessel, rather than of an actual vessel. The "Katy" hull lines were taken from the lines of "a Virginia pilot boat" published by Davis Steel in his historic work on naval architecture in 1805. The hull design, referred to as a Jamaica or Baltimore boat, later evolved into the highly successful Baltimore Clipper. The rest of the vessel, including deck furniture, fittings, and rigging is a reconstruction based on contemporary practice. The "Katy" had a length of 56' 0", beam of 15" 6", depth of 6' 6", and displacement of 52 tons.

The model was constructed to a scale of ¼" to the foot (1:48) based on an old Model Shipways solid hull kit purchased in the 1960's (in the original yellow box). The model is plank on solid construction (POS). The hull exterior is fully planked, the deck is planked with nibbing, and the original fittings were replaced with scratch built deck furniture/fittings. Limited commercial fittings were used where appropriate, and rigging is proportional linen line with blocks by Warner Woods. "Katy" was Peter's first ship model project in over 40 years, and building it was both enjoyable and educational.

In addition to the kit drawings and instructions, Peter utilized the following references: Planking the Built-Up Ship Model by Jim Roberts; The Neophyte ShipModeller's Jackstay by George Campbell; Modeling the Armed Virginia Sloop, a Practicum by Robert Hunt; The Art of Knotting and Splicing by Cyrus Lawrence Day; and, Steel's Elements of Masting, Sailmaking, and Rigging, 1794.

Image Comments

Gallery Statistics