The first armament to be installed will be the torpedo launchers, two seemingly complex and fiddly structures consisting of 16 parts each.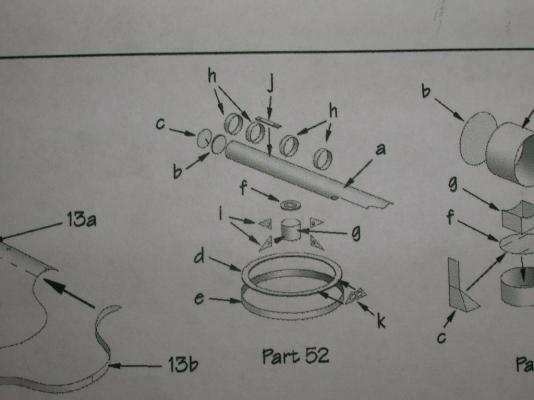 The parts for these are conveniently located together on the parts sheet. Believe it or not, I have built models where this wasn't the case - go figure.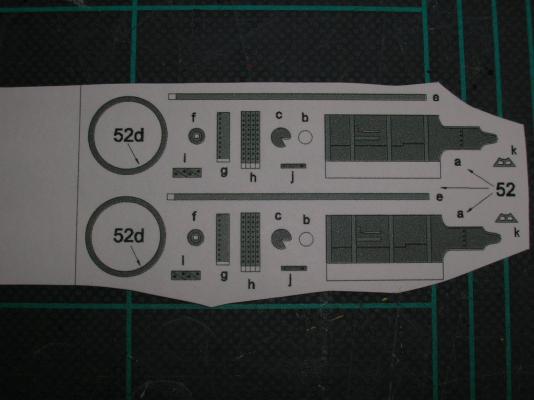 There are two launchers on the model, one forward of the bridge, and the other aft of the superstructure. The launchers are identical, and on assemblies like this I prefer to build them simultaneously instead of first one, then the other.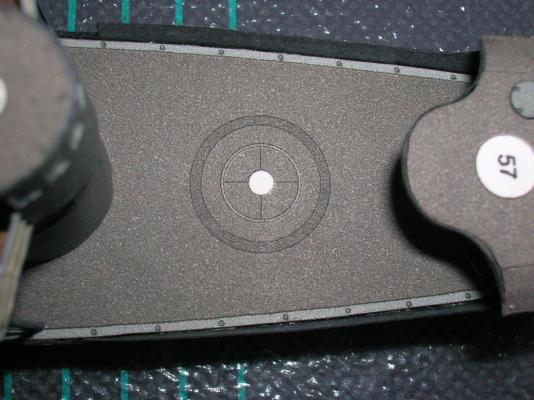 This is another construction sequence where it makes more sense to me to assemble the parts out of sequence. We'll start with the pedestal. Cut, color, roll, and glue the pedestals (52g), then add the caps (52f). Glue these down to the deck. Next, add the triangular support brackets (52i); these are tiny right triangles, and the long leg of the triangle goes on the deck. The finished pedestals look like this: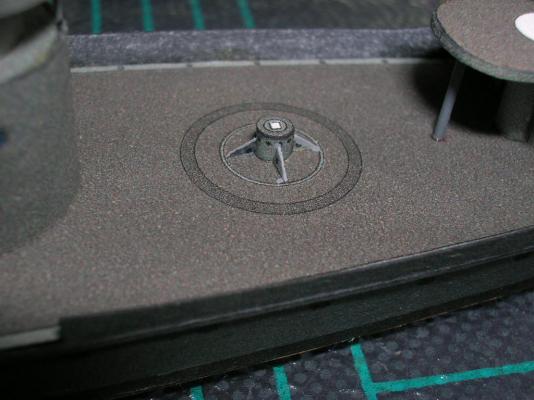 Next comes the ring-shaped structure that I'm presuming is a kind of track that the tube support brackets (52k) travel around when the tube is aimed. This consists of two parts, the ring (52e) and the circular track (52d)(the upper parts in the picture below). The inside of 52e needs to be colored, because it will be visible on the finished launcher.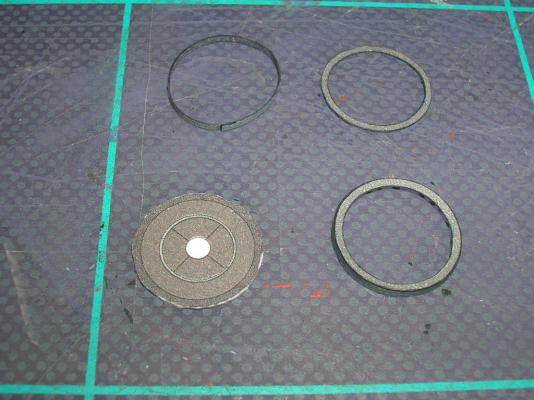 The ring, when closed, will be rather flimsy, and mating the track to it will be difficult. To fix this, we're going to use the spare deck printed on 20# bond. Remove two small squares containing the launcher locations from the spare deck, then laminate these to a couple of sheets of card. When dry, cut out the circular mount location, being careful to cut inside the line. Presto! Now you have a circular former to help you get the ring (52e) nice and round before adding the track (52d) (the temporary former is in the lower left of the previous photo). Work the ring carefully around the former and be sure it is seated at the bottom of the ring - we don't want to accidentally glue these two parts together. Next, cut out and add the track (52d); remember to remove the inner circle first, color the inner edge while the part is still on the sheet, then cut the outer circle. After the ring and track are glued together, the temporary former can be removed. The finished ring/track is in the lower right of the previous photo.
Here's the forward ring glued down to the deck.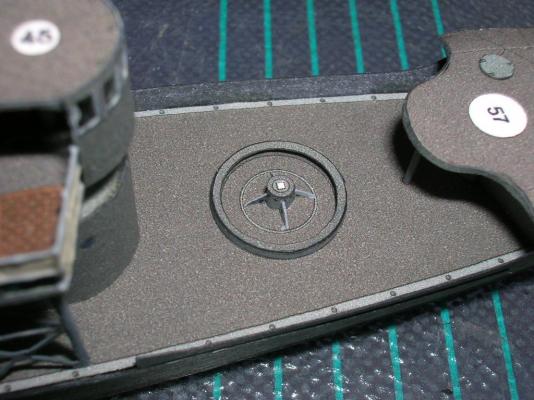 Return to Part VI: The Superstructure