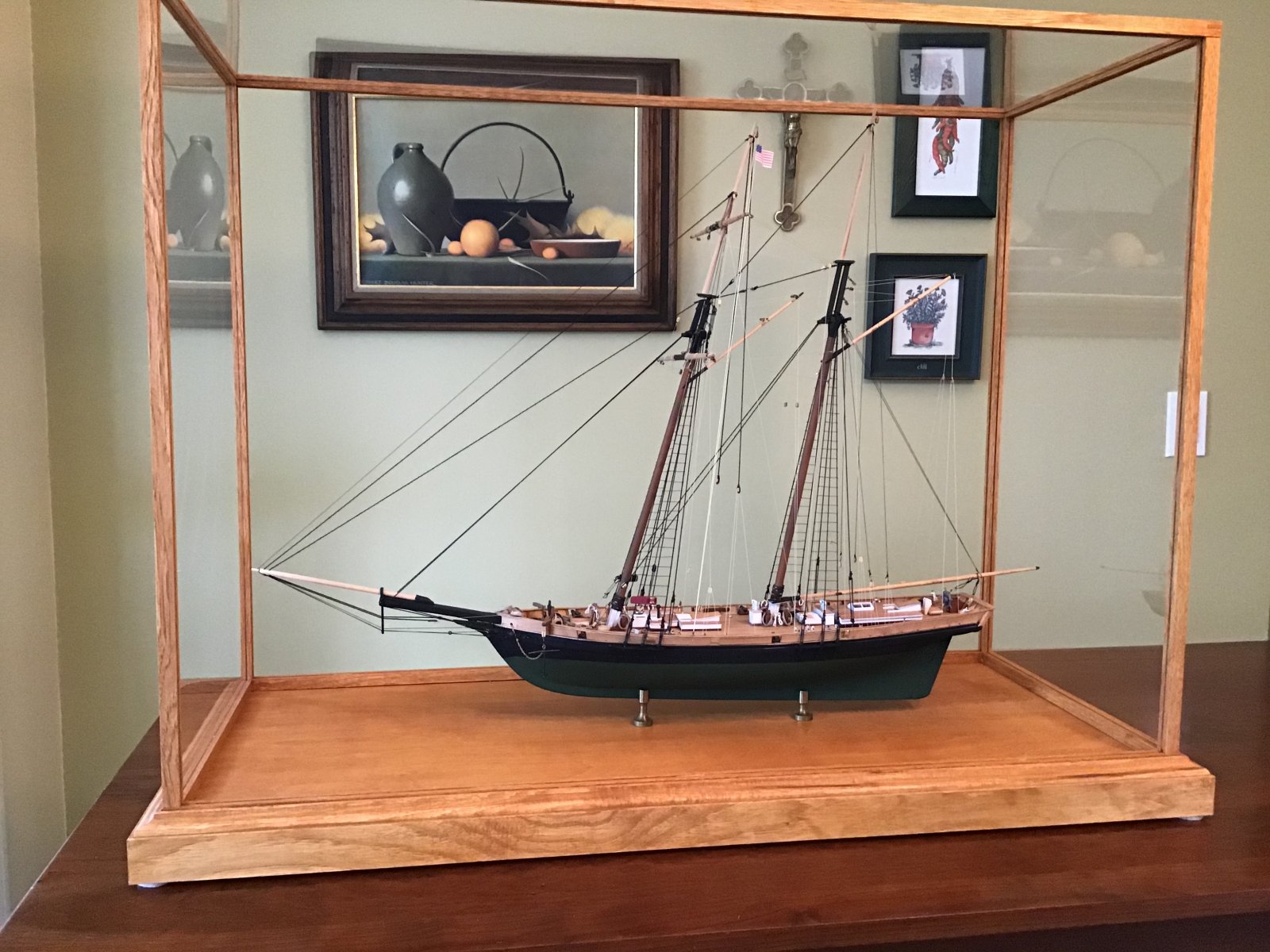 Completed and cased in 2020.
Love the rake of the masts!
Built following Robert E. Hunt's "College of Model Shipbuilding" course, simultaneously with the Eagle.
Goal of this project was to gain an understanding of how to rig a a two masted vessel and in particular manufacture the masts, yards, and bowsprit using the lathe, router table (bowsprit octagon section), and Byrnes table saw.  Also to get the vertical alignment of the hull, the masts, and pedestals correct.
Hull primed with rattle can shellac and gesso.  Hull colors are Tamiya Deep Green and Flat Black applied with Talon airbrush.
Bulwarks, deck, masts, yards, booms, gaff, finished with Minwax Ipswich Pine stain. Deck has a furniture paste wax finish.  
 
Masts finished with Vallejo Model Air Mahogany, black areas are Tamiya flat black acrylic both applied with the Talon.  Stained pine readily accommodates the acrylic.  White areas of deck houses brushed out with Vallejo Model Color white.
Rope hanks made using a clothespin technique shown in the Bluejacket Shipcrafters email newsletter.  Blocks stropped with fine wire, also available from Bluejacket.
Tops of deck houses made from scraps of glued up decking (left over from Lackawanna), also available from Bluejacket.  Thought was to give it a try, to save time, however, will not do this going forward with future construction.
Case is my own design.  3/32" acrylic all around, a significant weight and cost saving as compared to cabinet glass.  Maple plywood base, maple moulding and frame; finished with Old Masters Maple stain and paste furniture wax.
Image Comments

Gallery Statistics