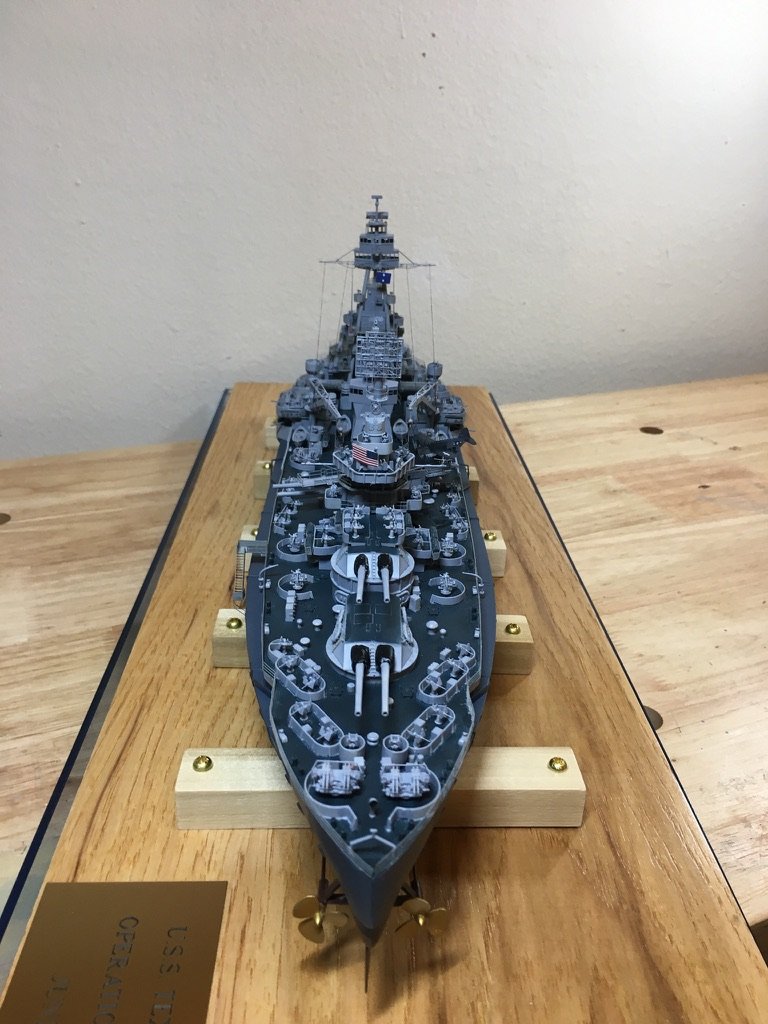 The basic kit is from Trumpeter.   I customized it using the following:
Eduard photo-etch

Black Cat Model's 20mm, 40mm and 3"/50 cal anti-aircraft guns

Miscellaneous fittings from Black Cat Models

Master Model's 14-inch gun barrels

Master Model's whip antennas

North Star Model's floater nets

Radars from Infini Model's USN World War II radar set

Kingfisher floatplanes from L'Arsenal
I painted the ship as she appeared during Operation Overlord with the Measure 22 schema.   
Measure 22 used Navy blue low on the hull, below the first continuous deck, with Haze gray above that.  Measure 22 used a straight horizontal boundary between the two colors rather than following the sheer of the main deck, making a characteristic gray "wedge" at the bow.  This bold contrast at a horizontal line near the horizon reduced visibility to surface observers and created the illusion of greater range.  Horizontal surfaces were painted Deck blue.   This measure largely replaced Measure 12 where aerial observation was unlikely. The Bureau of Ship Manual Ship Camouflage Manual (Ships-2, Revision 2) states Measure 22 is "useful for combatant ships operating in areas where greatest danger might be expected from gunnery action either from shore batteries or from enemy surface ships. Moderately high visibility to aerial observation at close ranges."  This measure was used in the Atlantic and European coastal waters from the end of 1942 through the end of World War II and was often referred to as "Atlantic two-tone."  It was worn by shore bombardment ships in the Pacific from late 1944 after the destruction of Japanese naval aviation in the Battle of the Philippine Sea.   
Image Comments

Gallery Statistics