I'm new at this game and have encountered a problem that I'd like to correct in a sensible manner (i.e. I don't want to damage what I've done!).
When I planked the Bluenose bow I allowed the strips to overlap the false keel. I need to clear that space so that the stem, under-stem, and keel can be fixed to the false keel.
In the photo below I've drawn yellow lines to indicate the line of the false keel.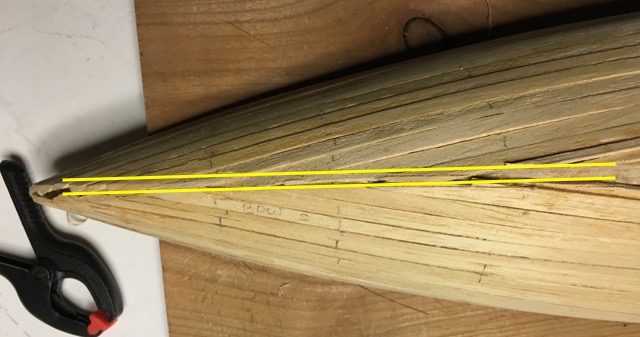 I can file or sand away the planks (easy), or I can try to cut them (seems tricky). I can't really visualize which will look ok once the keel pieces are attached.
I was considering painting the hull rather than second planking it. I suppose I can use filler to try to fix things but I'd prefer not to have to do too much of that.
Suggestions?
Doug