Cruizers, part 5: HMS Epervier
The Cruizer-class brig-sloop HMS Epervier (French for sparrow hawk) launched in December 1812, commissioned in January 1813 under Commander Richard Walter Wales and assigned to the Halifax station.
On 20 August 1813, she captured the schooner Lively followed by Active on 20 September. Three days later Epervier, Majestic and Wasp captured Resolution. On 5 October, Epervier and Fantome captured the American privateer Portsmouth Packet and on 3 November, they captured the Peggy.
On 23 February 1814, Epervier captured the American privateer brig Alfred off Cape Sable, the southern-most point of mainland Florida. Alfred, which carried 16 x long 9 pound guns and a crew of about 100, surrendered without a fight. HMS Junon (38) was also within sight. While returning to Halifax with Alfred, Commander Wales learned of a plot between some of the crew of Epervier and the prisoners to take over one or both vessels and escape to America. Wales arrived in Halifax two days later after sailing through a gale. There he notified his commanding officer (who was also his uncle), Admiral Sir John Borlase Warren, that he did not trust his crew. Warren dismissed Wales' concerns and gave him orders for Epervier to escort a small convoy to Bermuda and the West Indies in company with the schooner Shelburne. Before leaving on 3 March, Wales exchanged her 2 x 6 pound chase guns and 12 pounder carronade boat gun for 2 x 18 pounder carronade boat guns.2
On 14 April, Epervier sailed from Port Royal, Jamaica in company with a merchant brig bound for Bermuda; they stopped at Havana, Cuba where Epervier took on board $118,000 in coins. They left for Bermuda on 25 April. Early in the morning of 29 April, a Russian merchant ship going to Boston joined the convoy. Shortly after that, another ship appeared to the southwest in pursuit. This was the USS Peacock.
USS Peacock's Specifications
Length: 119 ft
Beam: 31 ft 6 inches
Tonnage: 509 (burthen)
Rig: ship-rigged sloop
Armament: 20 x 32 pounder carronades + 2 x 12 pounder chase guns
Complement: 166
Peacock was one of three new 22-gun flush-decked ship-rigged sloops-of-war that entered US Navy service in the fall and winter of 1813, the other two being Frolic and Wasp. Peacock launched on 19 September 1813 at New York Navy Yard and commissioned with Master Commandant Lewis Warrington in command soon after. She broke through the British blockade of New York on 12 March 1814 with supplies for the naval station at St. Mary's, Georgia and after making the delivery headed south, eventually arriving near Cape Canaveral, Florida on 29 April.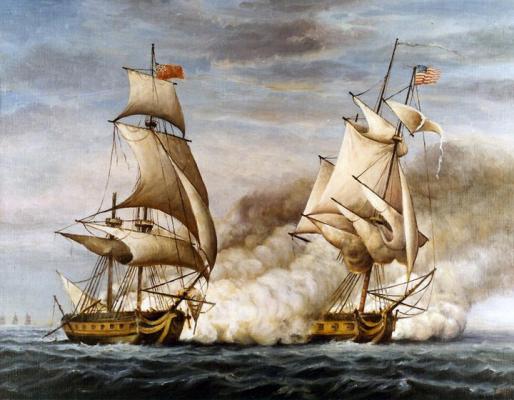 HMS Epervier vs USS Peacock
29 April 1814
When Epervier saw Peacock, she changed course to the southwest directly towards her. After Peacock, flying a British ensign and pennant, did not respond to Epervier's signals, Wales signaled to his convoy that the unidentified sail was the enemy and the convoy set all sail heading northeast. At about 9:40 am Peacock ran up several US flags and cleared for action. In the two hours since both ships had sighted each other the wind had gradually veered from a little south of east to almost directly out of the south.
At 10 am, with Epervier close hauled on the port tack, Peacock, at half gun range with the wind over her starboard quarter, turned slightly to the north but Epervier kept her bowsprit pointed directly towards the bow of her enemy. Epervier then turned into the wind, fired a raking broadside close off Peacock's starboard bow and continued her turn. Peacock fired her starboard battery at 10:20 during Epervier's turn. Both broadsides took effect aloft; Peacock suffered her only significant injury – a disabled foresail yard – during this exchange.
At 10:35, Epervier completed her turn on a course parallel to Peacock and fired an ineffectual broadside from her port battery. Peacock immediately returned fire and continued with a bombardment from her starboard battery at Epervier's hull. Epervier's main topmast fell by the side and then the mainsail boom fell to the deck smashing the wheel, rendering her unmanageable. Epervier's return fire had fallen to nothing by this time.
Anticipating that Peacock's next move would be to come along side and board, Wales attempted to rally his crew to board her the moment the two vessels touched. His crew refused. Epervier struck her colors at 11:05 am.
Peacock suffered the one injury to the foresail yard, some damaged rigging and sails and two men slightly wounded. Repairs were completed in less than 45 minutes. Warrington pointed out that not one shot from Epervier had struck Peacock's hull. The prize master on Epervier, First Lieutenant John B. Nicolson, reported 9 dead or mortally wounded and 14 wounded, 45 shot holes in her hull and 5 feet of water in the hold, bowsprit severely damaged, most of the foremast stays and braces shot away, main topmast over the side, main gaff sail boom shot away and the mainmast shot through but still standing only because the sea was flat and the wind was light. Jury repairs to Epervier were completed by sunset but only through great exertion to prevent her from sinking. No doubt the discovery of $118,000 in Epervier's lock room came as a great surprise.
The next day, the Americans sighted two British frigates. Peacock successfully decoyed them away from Epervier and later escaped from their pursuit. Epervier arrived in St. Mary's, Georgia on 1 May; Peacock arrived on the 4th.
The victory of the Peacock over the Epervier was one of the most one-sided of the War of 1812, even though the two opposing vessels were not grossly disparate in strength. It was stated that although Peacock's fire had dismounted some of Epervier's carronades, more of them fell from their mounts when they were fired. Wales had carried out little or none of the gunnery practice that would have revealed defects in the guns or carriages before it was too late to remedy them. Wales had also reported disaffection and unrest among his crew and, unusually for the Royal Navy in the War of 1812, they failed in their duty to fight to their utmost. The court martial on 20 January 1815 revealed that Epervier had the worst crew of any vessel on her station. In particular, her crew consisted mostly of invalids from the hospital.
After completion of repairs Epervier went into US Navy service with the same name and rate. USS Epervier, under Master Commandant John Downes, sailed to join the Mediterranean Squadron under Commodore Stephen Decatur, Jr., whose mission was to stop the harassment of American shipping by the Dey of Algiers. Epervier joined with Guerriere, Constellation, Ontario and five smaller vessels in the Battle off Cape Gata on 17 June 1815, which led to the capture of the 44 (or 46)-gun frigate Meshuda (or Mashuda). Epervier fired nine broadsides into Meshuda to induce her to surrender after Guerriere had already crippled the Algerian vessel.
Two days later the Epervier and three of the smaller vessels of the squadron captured the Algerian brig of war Estedio, of twenty-two guns and 180 men, at the Battle off Cape Palos. After the conclusion of peace with Algiers, Decatur transferred Downes to Guerriere.
After the Dey signed a treaty, Decatur chose Epervier, under Lieutenant John T. Shubrick, Guerriere's former first lieutenant, to carry a copy of the treaty and some captured flags to the United States. Captain Lewis and Lieutenants Neale and John Yarnall came on board as passengers. Epervier sailed through the Straits of Gibraltar on 14 July 1815 and was never seen again.
Peacock went on two more cruises in the War of 1812 with Lewis Warrington still in command during which she captured eighteen merchant vessels. After the war, she continued to serve almost continuously until 1841, when she ran aground and broke up on a bar of the Columbia River in Oregon as part of the United States Exploring Expedition. Her crew and most of the scientific data were successfully taken off. She had undergone a breakup and rebuild in 1828 which reduced her armament to 8 x long 24 pounders and 2 x long 9 pounders and increased her displacement to 650 tons specifically for exploratory and extended duration cruises while retaining her overall length and sail plan.1
After the war, Lewis Warrington received promotion to Captain in command of Macedonian, then Java, followed by Guerriere. He also commanded the West India Station during the last stages of the piracy suppression campaign, which earned him the title of Commodore. He also served as Commandant of the Norfolk Navy Yard, multiple times as a Commissioner of the Navy Board, Chief of the Bureau of Yards and Docks, Secretary of the Navy (temporarily, between the death of the Secretary and appointment of a replacement) and finally, as Chief of the Bureau of Ordinance until his death in 1851 at age 69. Three destroyers were named in his honor in the early and middle 20th Century.
Epervier might make an interesting variation of Caldercraft/Jotika's Cruizer with the fore and aft platforms and the armament change. She could also be built as she appeared in either the Royal Navy or the US Navy. The US Navy had hull drawings made which were redrawn by Howard I. Chapelle for his book ​The History of the American Sailing Navy. These drawings also show the changes made for US service: increased mast rake, lowered gun ports and a low rail on top of the bulwarks at the forecastle platform.1
Next: HMS Reindeer
Edits: 1 additions to text
2 "carronades or gunnades" to "carronade boat guns", see post #33
Sources:
The Naval History of Great Britain by William James, 1824
History of the Navy of the United States by J. Fenimore Cooper, 1836
The Naval War of 1812 by Theodore Roosevelt, 1900
The Age of Fighting Sail by C. S. Forester, 1957
Dictionary of American Naval Fighting Ships, Dept US Navy, (online)
Edited by DFellingham, 28 May 2013 - 05:37 PM.