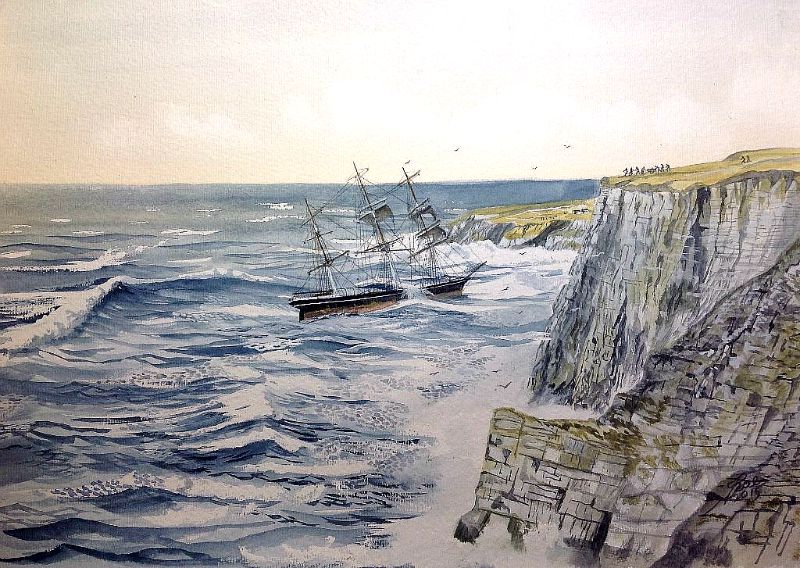 Content Count

483

Joined

Last visited
I was asked by Valentina Golycheva if I could do a painting of the attack on Convoy BD-5 - 12 August, 1944: The Marina Raskova was a soviet cargo ship that was torpedoed and damaged in the Kara Sea by U-365 (commander Kapitänleutnant H.Wedemeyer) while heading from Molotovsk to Kara's naval base at Port Dikson to supply food, technical equipment relief personnel and their families. The merchant ship was being escorted by three minesweepers from the 6. Minesweeper Division, and two of them were also sunk by the German submarine (T-118 and T-114). Marina Raskova was sunk by a coup de grâce the d

I think there were only about 5 built, and they mostly operated in the Middle East. However no doubt they were test flown in the area.

Up date, put in a Short S17 'Kent' Flying boat.

1956, I left school, joined Merchant Navy, trained as a Catering boy at the TS Dolphin in Leith. Joined my first ship Edenwood at Ellesmere Port. Ballast to Casablanca for Phosphate for Bo'ness on the Firth of Forth. On the return trip we stopped off to 'swing the Compass' off Inchkeith. The Compass Adjuster was T.C. Lauder of Leith. I was sent up to the bridge with tea and sandwiches for him. Not the last time I was to meet Tommy Lauder. Several ships, sea miles and years later, now in the RN, I met the girl who was eventually to be my wife. When I met her Family her Dad was the same TC Lau

Thames Estuary again. 14" x 10" w/c

Pilots,! Think i might need one!

Arctic Echoes was a book made up with about fifty of my convoy related paintings. Printed in Moscow, sponsored by various companies. My wife and I were invited to attend the 75 anniversary celebrations held in Arkhangelsk and St Petersburg, in 2016. Trip of a life time!

To all my friends concerned with keeping the friendships and memories of The Arctic Convoys and what they meant to our countries, fresh in the minds of future generations. Seasons greetings. Health. Wealth. Happiness and always a Fathom below your Keel.

Latest two small pics L ...Birkdale R....Alice w/c 5.75" X 4"

Another mini pic. (5.75" X 4") HMS Clematis leaving harbour.

Another two small ones, photographed on one of my more usual 16.5" X 11.75" Herzogin Cecilie and Ocean Angel

Two small paintings this afternoon. Postcard size 5.75" X 3.75" I04 HMCS Annapolis and K113 HMCS Arvida , most enjoyable at this size, watch out for more.

Sorry. Haven't a clue!. Jim

Schooner iced up. A particular danger in sailing vessels, not just extra top hamper, but running rigging tends to seize up so sails become unmanageable. W/C 16.5" X 11.75"

Balloon Man 2 Convoy assembly area off Southend. Balloons being delivered to ships W/C 16,5" X 10.75" The Royal Air Force had several Balloon Squadrons equipped with truck mounted winches ( some used for launching Gliders in the many Gliding Clubs which were formed post war) They were fitted out with all the equipment for maintainence and gas storage.