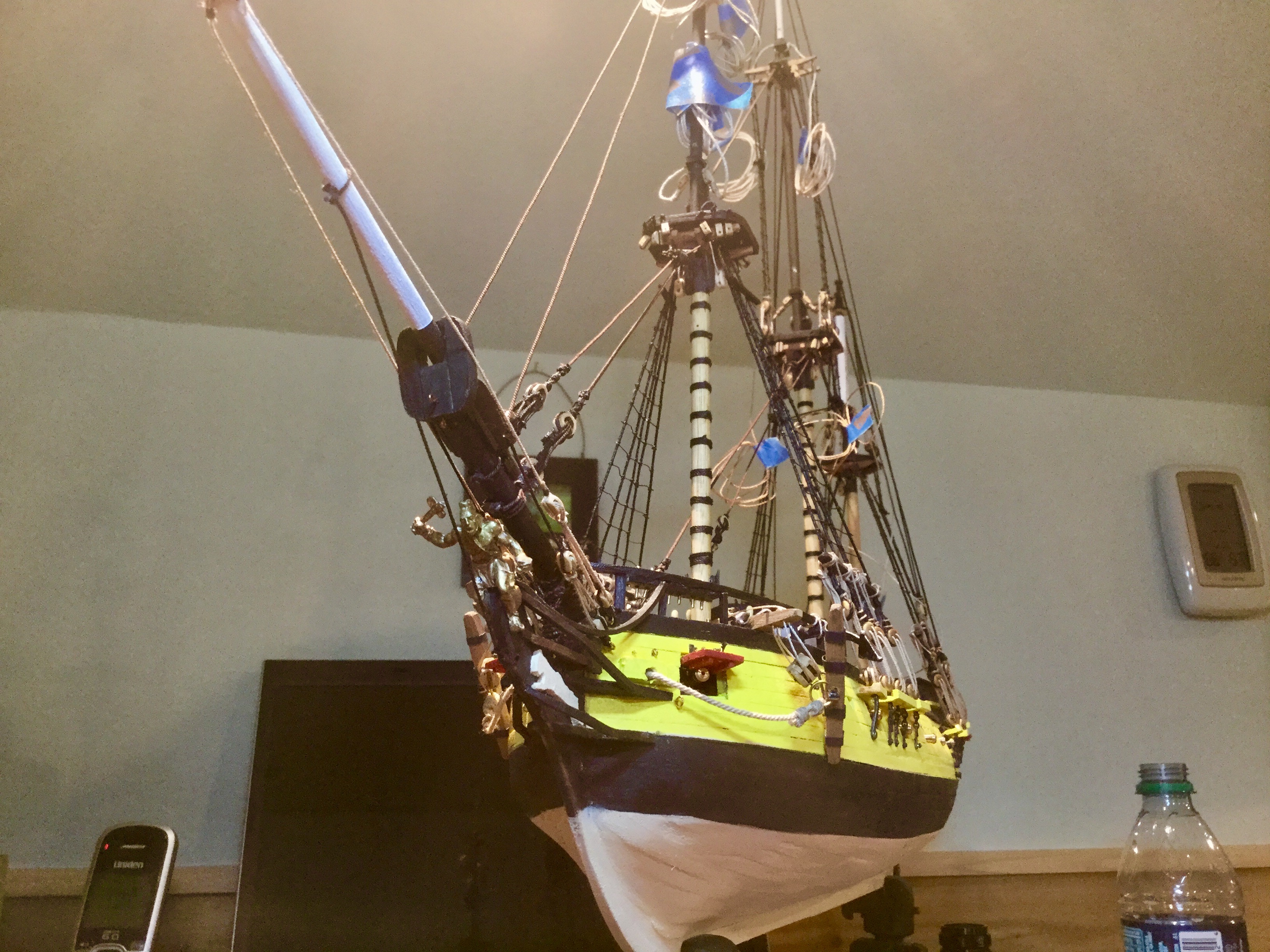 Content count

248

Joined

Last visited
I leave very short tails and then add coils made on a jig later. I have used one on every pin and to tell the truth dependent on scale it can look really crowded. We as modelers always try to make things neat and tidy when the real world is more haphazard and crowded.

John it is a great model and you'll enjoy it.

HMS Fly! WOW you are jumping right in. Enjoy and welcome aboard

There is a link in KenW Rattlesnake Build to a 30 page article on how to make and rig furled sails. I have a copy but can't figure out how to post it. I used "William Blackmore" <robo612@earthlink.net> To make my sails. Did a great job at reasonable price.

That is a little scary. Watched some You Tube video and the Q-tip started smoking when CA was added, a lot of CA. There was also a video of a Chemist using a Temperature probe that showed not all CA does this as some have an inhibitor in the formula .

Jim:

I just today noticed your post in jablackwell's Syren build log on 11/29/2017 and your use of Redheart for the ceiling on your build. I have been doing the same on my Lawrence (aka, Niagara with modifications). 

I used Redheart for the bulwarks ceiling, and Osage orange for bulwarks exterior planking. 

So, a couple questions for you ...

I read that the Redheart will fade over time to dull grayish-red, so lightly coated with red stain.  Did you do anything to preserve the color?

both of these woods were very hard and brittle. The first strake below the gunports on the exterior is Redheart and no matter how long I soaked it, the planks snapped when bending. I finally had to plane the plank down to nearly 1/32" to get it to bend. Did you have similar issues?

I am also using Redheart for carronade carriages. 

Thanks. 

I steam bend with no issues. I tried the soaking routine and had the same results as you. I coated mine with a satin poly after installation. OMG what a color pop. You can also use Tung oil. I also used Redheart on my Rattlesnake ceiling and loved it. Another wood I use is Yellow Cedar for decks. A lot of people use Holly because they say it resembles a hollystoned deck but I think it is just to white. The cedar is the perfect shade. Not brown not white. I thought about doing the carriages with the Redheart but I like the contrast between the Redheart ceilin, Cedar Deck, black fittings and flat red carriages. That is a very good looking Carronade. Like the pop of brass.Your Lawrence is going to be stunning when complete. Here is a photo of where I am now. I build from stern forward and try to complete everything in a section prior to moving on.

Good looking build you have there. I almost like your flat red gun carriages slightly contrasting with the deep red Redheart more than my scheme (almost). 

I like your light colored deck. Mine will be a bit more subdued, using mahogany with a light gray stain and satin poly finish. I intend to make the companion-way, grates, and fife rails of walnut.  But, with this color scheme based on natural wood colors, I'm not yet sure what I'll do with finishing the spars and tops. 

I hated the shiny copper look myself. I thought about painting but went with the patina. Yours looks great.

That is a very nice jig. Does a great job. How did you make it?

The term goat locker takes its origins from wooden ship sailing times, when goats were kept aboard ship. The goat was used for its ability to consume nearly all forms of refuse, and produce milk for the crew. The quarters for the goat were traditionally in the chief petty officer mess, which inherited the moniker "goat locker". In modern times, 'goat locker' represents any gathering place, on- or off-ship, where chief petty officers hold private functions.

When I was stationed in Italy the USS Little Rock CLG4 had wood decks made of teak, they were brown in color not white. Many of the old sailing ships used Pine for decking which is also brown. So why do modelers use Holly for decks? It is pretty and all but the ship's boatswain would have hated it.

You can use mine if you like.

I used about 3/4 of the roll. I started doing individual plates but couldn't keep it exactly lined up so I removed it all, maybe 10 plates. So I did 6 inch sections. The pattern makes individual plates uneeded in my opinion. For the keel I just folded the section of plate over. I drilled and pegged the false keel over the plate. For the dressing band I did both Port and starboard patterns on each plate. Looks great. I bought individual plates from Model Shipways for the dressing band but (1) they were fat and chunky, (2) looked phony (3) you had to glue them on so probably messy. I wish you would have mentioned the waterway issue about two weeks ago. I am not tearing every out to fix it. Nobody knows but me anyhow so what the heck. Any time you get some time off you are more than welcome to come over to the Goat Locker Shipyard and Rock n' Roll Emporium.

I found this patina product on Amazon. Works great. Just brush it on. May take a few coats but so worth it

I went through the same exact thing. Very poor customer communication via the written word. I found talking to them on the phone moved the order along. Took six weeks to get my order. My advice is to front load at least a month for your project if placing an order.

As far as clamps go anything that will work. Different places on the Model require different length, shape and number of clamps. You can use a piece of wood and one clamp to hold three or four strips in place. Rubber bands work also.