***NOTE - in January 2016, I decided to close this build log. I'll be building the Lyme as a new scratch build using the NMM plans, rather than try to bash the Corel Unicorn kit***
***NOTE - in August 2014, I decided to build the HMS Lyme, the sister ship to the Unicorn, by bashing the Corel Unicorn kit. So, the log until then will be referring a lot to the Unicorn***
Hi my friends, now that I finished the Badger, I'm moving onto my second build, which will be the Corel Unicorn.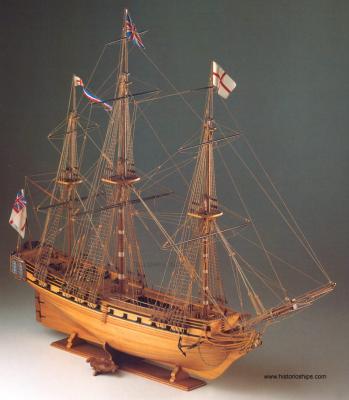 The kit is scale 1:75, which ends up being approximately 33" in length and 29" in height, and some sites rate it as an "intermediate level" build. It doesn't look like it is too complicated a kit, but I plan to attempt a number of enhancements to the build which should raise the difficulty a bit. I was sold on the kit after coming across my friend Ian Major's beautiful build on here, so I blame him for my foray into this model -- hopefully my build comes out half as well as his

In addition to Ian, ZyZux and Ollyweb have build logs on here, and Petervisser has a completed Unicorn in the completed kits gallery - so, plenty of good company as I no doubt will need help along the way.
As other builders of the kit will tell you, it looks like Corel was very confused about the history of the Unicorn. Not only does the box imply the ship was built in 1790, but in the instructions, Corel says that Fredrik Henrik af Chapman designed the ship in 1700. Only problem is that Chapman was born in 1721

The instructions are correct that the "Architectura Navalis Mercatoria," which reproduces 62 plates from Chapman's ship engineering work (including the Unicorn), was published in Stockholm in 1768. Not only do the instructions have the history wrong, but the design of the ship with the narrow waist seems to be incorrect according to the frigate history outlined in Robert Gardiner's "The Sailing Frigate." In any event, the inaccuracies of the kit are well documented in the MSW link below.
http://modelshipworl...-of-corel-kits/
The Lyme and the Unicorn actually played an important part in British naval history. According to Gardiner's "The Sailing Frigate," the Lyme and the Unicorn were the first "true frigates." During the 1740s, the fifth and sixth rate vessels in the British navy were deemed inadequate, so it was decided that the navy would copy a captured French ship. British 24s had a heavily framed full-height lower deck while their French counterparts had a light platform lower deck with reduced headroom positioned just below the waterline (which compressed the height of the topside) along with an unarmed quarterdeck and forecastle and minimal barricades or rails. According to Gardiner, the fine lines and light framing made for fast and weatherly ships. The British ultimately copied the lines of the privateer Tygre, and launched the Lyme and the Unicorn in 1748 (these were referred to as the Lyme class). Apparently, the design was of such great success, that eventually 20 ships were built of this design. Some other tidbits in the Wikipedia links below:
http://en.wikipedia....HMS_Lyme_(1748)
http://en.wikipedia...._Unicorn_(1748)
Edited by Landlubber Mike, 17 January 2016 - 05:39 PM.