And now the part you've been waiting for: What are we going to build?? Answer: We will build the 1/200 scale V108 torpedo boat from Digital Navy. Some reasons for this model: First, I have it printed already, and my printer has shown a recent propensity for not wanting to print on card stock, so finding a different model was problematic. Second, I have never built it before, which means that I'll have more motivation to build it, plus you and I will encounter the inherent construction problems together at the same time (all card models, no matter how top-shelf they are, have some construction problems; overcoming these is part of the challenge of card models). Third, it is a reasonably-sized model - not too big, not too small, and not overly difficult (based on parts count). Fourth, it is a torpedo boat, and torpedo boats are cool - who wouldn't want one?
The first thing you will need to do is acquire the model. Roman at Digital Navy has been kind enough to allow MSW to host the files here. Be sure to visit his web site - perhaps send a note of thanks and maybe even spend a few dollars! Each of the four pages comes in the form of a PDF. Download the files to your computer.
Page one is a cover sheet.

V108 diag1.pdf 978.46KB 189 downloads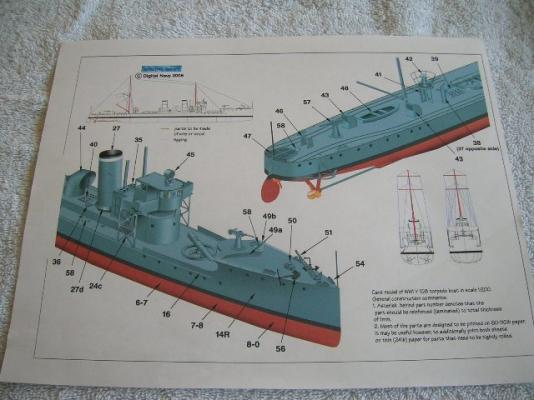 Page two is construction diagrams. Construction diagrams are very important for card models, since most card models are printed in non-English-speaking countries; therefore, the translation of instructions (if there is any) can be a little tortured - just like those infamous Italian-to-English instructions in many wood kits. So, diagrams are the chief construction guide for card models, and their number, completeness, and clarity can make or break a build.

V108 diag2.pdf 552.82KB 150 downloads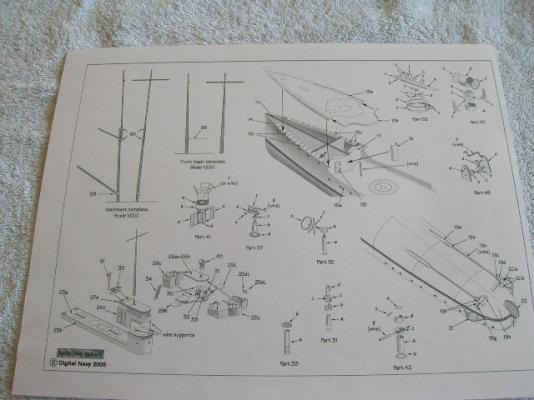 Pages three and four are parts sheets. Two sheets is a small number for a card model.

V108 sheet1.pdf 829.18KB 176 downloads

V108 sheet2.pdf 869.99KB 163 downloads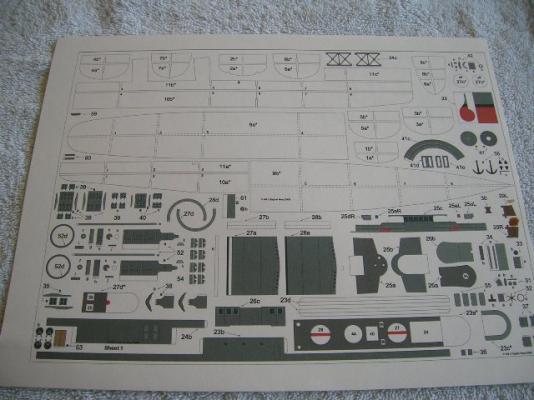 Depending on your printer, you can try printing the model at normal resolution, or at 'best quality' for better color density. You may also need to tell your printer that you are printing on card stock. You can print the first two pages (cover sheet and diagrams) on 20 lb bond paper (regular printer paper). The pages are formatted in 26 cm x 19 cm, so they should fit on both 8.5 x 11 and A4. You'll want to print the parts pages on 20 lb bond as well - some parts will be easier to form on the thinner paper. The parts sheets also need to be printed on card stock (after all, it's a "card model"). Finding card stock can be intimidating, because it comes in different thicknesses and is measured differently in the US than elsewhere. The easiest way to get some is to go to your local stationery store and ask for "card stock" - chances are, whatever they direct you to will do the job.
Once you have the model printed, it will be time to prep the parts.